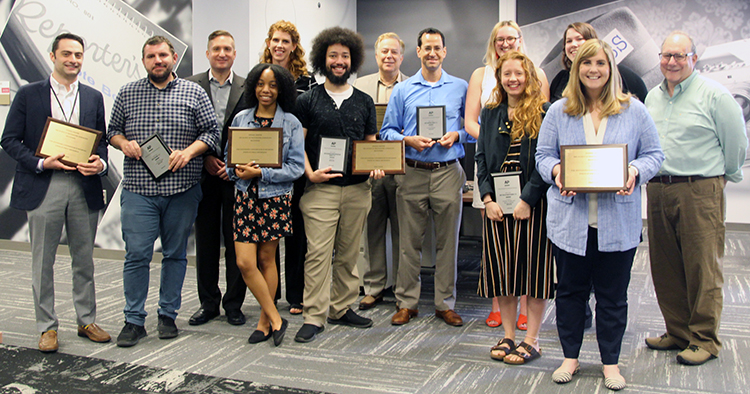 We are pleased to announce that WFIU and WTIU earned a combined total of 41 awards in regional contests last week!
The WFIU-WTIU News team won three regional Edward R. Murrow Awards last Tuesday, including for excellence in writing, investigative reporting, and sports reporting. Murrow winners represent work of the highest quality produced by radio, television, and online news organizations around the world. Regional winners automatically advance to the national Edward R. Murrow Awards competition. The national awards will be presented October 14 at the RTDNA Edward R. Murrow Awards Gala at Gotham Hall in New York City.
On Friday, WFIU and WTIU were honored with a combined total of 23 awards at the Indiana Chapter of the Society of Professional Journalists (SPJ) Best in Indiana Journalism Contest. The WFIU-WTIU News team took home 19 awards, including first place for Best Online Multimedia for its 2018 election coverage. WTIU earned four awards, including two for its local series The Weekly Special and a respective first and second place in the documentary category for Indiana's Wild Landscape and Beautiful by Design: The Indiana University Bloomington Campus.
The WFIU-WTIU News team also received 15 awards Saturday, including Outstanding News Operation and Best Website, in the Indiana Associated Press Broadcasters Association (IAPBA) 2018 contest.
"We have invested heavily in expanding our news service for local and statewide coverage, so it's especially heartening to get these votes of confidence from our peers. Listeners and viewers support quality," said WFIU-WTIU General Manager Perry Metz.
In addition to the 41 awards the stations have received, WTIU is also nominated for 13 Lower Great Lakes Chapter Emmy Awards from the National Academy of Television Arts and Sciences. Nominees include WTIU series The Friday Zone and The Weekly Special and local documentaries Beautiful by Design: The Indiana University Bloomington Campus; Clessie Cummins: Hoosier Inventor; Indiana's Wild Landscape; The Music Makers of Gennett Records and its companion concert film The Gennett Suite. The winners will be announced June 15 at the 2019 Emmy Gala in Cleveland.
A complete list of awards follows:
Regional Edward R. Murrow Awards
Excellence in Writing
"Engineers Seek 'Dark Sky' Designation For Hoosier National Forest"
Investigative Reporting
"Do Indiana's Civil Forfeiture Laws Violate the State Constitution?"
Sports Reporting
"Hoosier Experts Offer Opportunities To Learn Safe Caving Practices"
---
Indiana Chapter of the Society of Professional Journalists Awards
BEST ONLINE MULTIMEDIA
1ST PLACE:
WFIU/WTIU NEWS
"WFIU/WTIU 2018 ELECTION COVERAGE"
WFIU/WTIU NEWS
SPORTS REPORTING (TELEVISION – OUTSIDE INDIANAPOLIS MARKET)
1ST PLACE:
JASON PEAR, PRODUCER/VIDEOGRAPHER/EDITOR / JACOB LINDAUER,
VIDEOGRAPHER
"THE WEEKLY SPECIAL: INDIANA SPOTLIGHT: ANDREW PETERSON'S
RACE FOR THE GOLD"
WTIU
2ND PLACE:
LINDSEY WRIGHT
"AS ESPORTS INDUSTRY BOOMS, SOME COLLEGES LAUNCH VARSITY TEAMS"
WFIU/WTIU NEWS
FEATURE STORY (TELEVISION – OUTSIDE INDIANAPOLIS MARKET)
1ST PLACE:
ADAM CARROLL, PRODUCER/EDITOR; JACOB LINDAUER,
VIDEOGRAPHER; CHRIS DODGE, VIDEOGRAPHER
"THE WEEKLY SPECIAL: EXPRESSIONS: GABRIEL DISHAW"
WTIU
DOCUMENTARY OR SPECIAL (TELEVISION – OUTSIDE INDIANAPOLIS MARKET)
1ST PLACE:
SAMUEL ORR, ROB ANDERSON
"INDIANA'S WILD LANDSCAPE"
WTIU
2ND PLACE:
SUSANNE SCHWIBS, JUSTIN CROSSLEY, ROB ANDERSON
"BEAUTIFUL BY DESIGN: THE INDIANA UNIVERSITY BLOOMINGTON CAMPUS"
WTIU
CONTINUING COVERAGE (TELEVISION – OUTSIDE INDIANAPOLIS MARKET)
3RD PLACE:
WTIU NEWS
"CONTINUING COVERAGE OF THE IMPACT OF TARIFFS IN INDIANA"
WFIU/WTIU NEWS
EDUCATION COVERAGE (TELEVISION – ANY INDIANA STATION)
2ND PLACE:
WTIU NEWS
"HOW STUDENTS, SCHOOLS PARTICIPATED IN THE NATIONAL WALKOUT"
WFIU/WTIU NEWS
CRIMINAL JUSTICE REPORTING (TELEVISION – ANY INDIANA STATION)
1ST PLACE:
BARBARA BROSHER
"DO INDIANA'S CIVIL FORFEITURE LAWS VIOLATE THE STATE CONSTITUTION?"
WFIU/WTIU NEWS
2ND PLACE:
LINDSEY WRIGHT
"PUBLIC SAFETY CELL NETWORK AIMS TO IMPROVE EMERGENCY COMMUNICATION"
WFIU/WTIU NEWS
COVERAGE OF CHILDREN'S ISSUES (TELEVISION – ANY INDIANA STATION)
2ND PLACE:
BARBARA BROSHER
"PROGRAM GIVES KIDS IN JUVENILE DETENTION LESSON IN LEGAL RIGHTS"
WFIU/WTIU NEWS
COVERAGE OF MINORITY ISSUES (TELEVISION – ANY INDIANA STATION)
3RD PLACE:
BARBARA BROSHER
"INDIANA COUNTIES LOOK FOR SOLUTIONS TO HORSESHOE DAMAGE ON ROADS"
WFIU/WTIU NEWS
MEDICAL OR SCIENCE REPORTING (TELEVISION – ANY INDIANA STATION)
1ST PLACE:
BARBARA BROSHER
"VA TO OFFER HYPERBARIC OXYGEN THERAPY FOR SOME VETERANS WITH PTSD"
WFIU/WTIU NEWS
3RD PLACE:
TYLER LAKE
"BROWN COUNTY HEALTH CLINIC EMBRACES NEW CARE MODEL"
WFIU/WTIU NEWS
ENVIRONMENTAL REPORTING (TELEVISION – ANY INDIANA STATION)
1ST PLACE:
LINDSEY WRIGHT
"OPPONENTS OF BOBCAT HUNTING, CONTROVERSIAL PROPOSALS CALL FOR MORE INFORMATION"
WFIU/WTIU NEWS
2ND PLACE:
TYLER LAKE
"ENGINEERS SEEK 'DARK SKY' DESIGNATION FOR HOOSIER NATIONAL FOREST"
WFIU/WTIU NEWS
3RD PLACE:
LINDSEY WRIGHT
"EXPERTS: THE GROWING ANTI PLASTIC STRAW MOVEMENT IS ABOUT MORE THAN STRAWS"
WFIU/WTIU NEWS
RADIO SPORTS REPORTING
1ST PLACE:
LINDSEY WRIGHT AND BECCA COSTELLO
"HOOSIER EXPERTS OFFER OPPORTUNITIES TO LEARN SAFE CAVING PRACTICES"
WFIU/WTIU NEWS
2ND PLACE:
LINDSEY WRIGHT
"AS ESPORTS INDUSTRY BOOMS, SOME COLLEGES LAUNCH VARSITY TEAMS"
WFIU/WTIU NEWS
3RD PLACE:
LINDSEY WRIGHT
"INDIANA UNIVERSITY CREW FOLLOWS NFL'S LEAD IN IMPLEMENTING FIELD SAFETY PRACTICES"
WFIU/WTIU NEWS
RADIO IN-DEPTH REPORTING
3RD PLACE:
BARBARA BROSHER
"PROGRAM GIVES KIDS IN JUVENILE DETENTION LESSON IN LEGAL RIGHTS"
WFIU/WTIU NEWS
RADIO FEATURE STORY
3RD PLACE:
LINDSEY WRIGHT
"PROGRAM HELPS PREPARE STUDENTS WITH DISABILITIES FOR EMPLOYMENT"
WFIU/WTIU NEWS
STUDENT RADIO FEATURES REPORTING
2ND PLACE:
EMMA ATKINSON
"DAVIESS COUNTY SCHOOLS ADOPT ALTERNATIVE METHODS TO CURB DISCIPLINARY ISSUES"
WFIU/WTIU NEWS
---
Indiana Associated Press Broadcasters Association (IAPBA) Awards
RADIO II/LOCAL RADIO:
Best Spot News Reporting
Second Place
WFIU-FM, Bloomington
Joe Hren
"Protesters Shut Down Hamilton's State of the City Address"
Best General News
First Place
WFIU-FM, Bloomington
Lindsey Wright
"Experts: The Growing Anti-Plastic Straw Movement is About More Than Straws"
Second Place
WFIU-FM, Bloomington
Lindsey Wright
"Indiana University Crew Follows NFL's Lead in Implementing Field Safety Practices"
Best Feature
First Place
WFIU-FM, Bloomington
Lindsey Wright
"Program Helps Prepare Students With Disabilities for Employment"
Second Place
WFIU-FM, Bloomington
Barbara Brosher
"The History of a Hoosier Favorite: Pork Tenderloin"
Best Enterprise Story
First Place
WFIU-FM, Bloomington
Barbara Brosher
"VA to Offer Hyperbaric Oxygen Therapy for Some Veterans With PTSD"
Second Place
WFIU-FM, Bloomington
Barbara Brosher
"Program Gives Kids in Juvenile Detention Lesson in Legal Rights"
Best News Series
First Place
WFIU-FM, Bloomington
Barbara Brosher
"Do Indiana's Civil Forfeiture Laws Violate the State Constitution?"
Second Place
WFIU-FM, Bloomington
Lindsey Wright
"Franklin College Program Helps Students With Special Needs Gain Life Skills, Education"
Best Website - Radio
First Place
WFIU-FM, Bloomington
Best Use of Radio Sound
First Place
WFIU-FM, Bloomington
Lindsey Wright and Becca Costello
"Hoosier Experts Offer Opportunities to Learn Safe Caving Practices"
Second Place
WFIU-FM, Bloomington
Tyler Lake
"Engineers Seek 'Dark Sky' Designation for Hoosier National Forest"
Best Public Affairs Program (Radio)
Second Place
WFIU-FM, Bloomington
"The Challenges of Getting an Education While Homeless"
Best Short-Form Newscast (Radio)
Second Place
WFIU-FM, Bloomington
Sara Wittmeyer
Outstanding News Operation
First Place
WFIU-FM, Bloomington