The four-month remonstration window to petition against Bloomington's annexation ordinances is over and petitioners say they have enough signatures to stop it.
Monroe County Commissioners and residents against annexation marked the official conclusion of remonstration Thursday evening at the Monroe County Courthouse.
Leading the charge is Margaret Clements. She says hundreds of residents mobilized during a pandemic going door to door gathering signatures to void annexation.
"I think it's an important time to have a discussion of how we would like to evolve together in the future. It cannot just be an authoritarian, top down, the city gets to tell the county what they want to do through them," Clements said.
Indiana law states if 65-percent of the landowners remonstrate, then the annexation is invalidated for that one area.
If 51-percent of landowners remonstrate, they can fight the annexation through the court system.
Clements says her numbers don't include Wednesday and Thursday signatures.
AREA 1A: 1,092 signatures – 962 needed to invalidate
AREA 1B: 1,196 signatures – 1,367 needed to invalidate (1,073 needed to contest)
AREA 1C: 92 signatures – 69 needed to invalidate
AREA 2: 1,069 signatures – 864 needed to invalidate
AREA 3: 76 signatures – 66 needed to invalidate
AREA 4: 66 signatures – 60 needed to invalidate
AREA 5: 62 signatures – 60 needed to invalidate
The official remonstrance record is kept by Monroe County Auditor Catherine Smith's office. She says there are still more to count, process, and validate before it's official.
"I expect to have some numbers soon, although those numbers would be with a margin of error – maybe 5 percent. So ones that are overwhelmingly one way or the other – we'll have that a lot sooner," Smith said.
Smith says official remonstration results will be issued by the Monroe County Commissioners.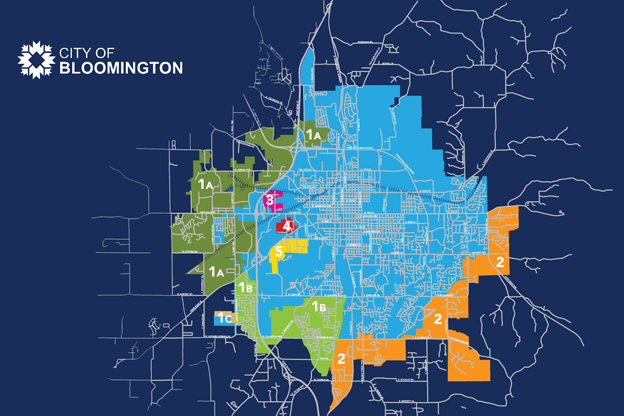 READ MORE: Pushing City Limits: Bloomington Annexation Coverage 
If annexation ordinances are voided, the city could challenge most of the signatures in court.
Bloomington Mayor John Hamilton says a new law by the Indiana legislature is unconstitutional because it retroactively voids a legal contract of annexation waivers.
Waivers are agreements property owners signed that prohibit them from challenging annexation in exchange for city services, such as water and sewer.
"The decision about whether a waiver is valid is not something the city decides and it's not something that the auditor decides. Ultimately a court decides that, so there can be different views about that," Hamilton said.
The 2019 law puts a 15-year cap on those waivers, so whether the signatures will hold up remains to be seen.
If annexation succeeds, more than 8,300 acres and 14,000 people would be annexed into city limits in January of 2024.
This story has been updated to clarify AREA 1B numbers.