The IU Trustees made history when they announced Pamela Whitten would be the 19th president of Indiana University.  
Following longtime leader Michael McRobbie, she would be IU's first woman president. It was a significant choice that raised high hopes for many. 
"I've always considered IU to be among the best public universities in the country," Whitten said at the April 2021 news conference where trustees introduced her. "I am humbled, and I am honored, and I am excited to be joining the IU family as president." 
A year into her tenure, she has impressed some people with her energy and her focus on students. But there's been no honeymoon. 
Last fall, a law professor reported that trustees did an end run around their search committee to hire Whitten. Next, graduate student workers in Bloomington stepped up a union campaign and went on strike. Finally, the abortion debate prompted new questions for IU's leadership this summer. 
Ben Robinson, an associate professor of Germanic studies, heads the American Association of University Professors at IU Bloomington. He believes many faculty have lost confidence in Whitten. Can she win it back? 
"That's a huge question," Robinson said. "My sense is that we are heading towards a no confidence vote in the fall." 
In an interview, Whitten said she is happy to be at IU and is counting the days until students return. 
Click HERE to listen to the full interview with education reporter, Steve Hinnefeld and IU president Pam Whitten
She is focused on three priorities: supporting research and scholarship; providing benefits to the state of Indiana; and, especially, putting students at the center of the IU universe. 
"Probably the issue that keeps me up the most at night is the long-term concern about how we're going to keep college affordable for our students," Whitten said. "What can we do in the long term to make sure that all Hoosiers, and people beyond the state as well, have access to an Indiana University degree moving forward?" 
Adjustments and surprises
Whitten was previously president of Kennesaw State University and provost at the University of Georgia. She said there have been adjustments: like getting a handle on IU's statewide scope and complexity. 
"People can tell you, and you can read about it," she said, "but you don't really have an appreciation for the footprint of Indiana University until you get to the state of Indiana. And we're everywhere." 
She said there also have been some surprises. 
"I was a little surprised to realize that the university, let's just say, had the opportunity to be a little bit more fiscally responsible than we had been," she said. "We had, in many cases, expenses exceeding revenues. And so that was something we had to yoke right in."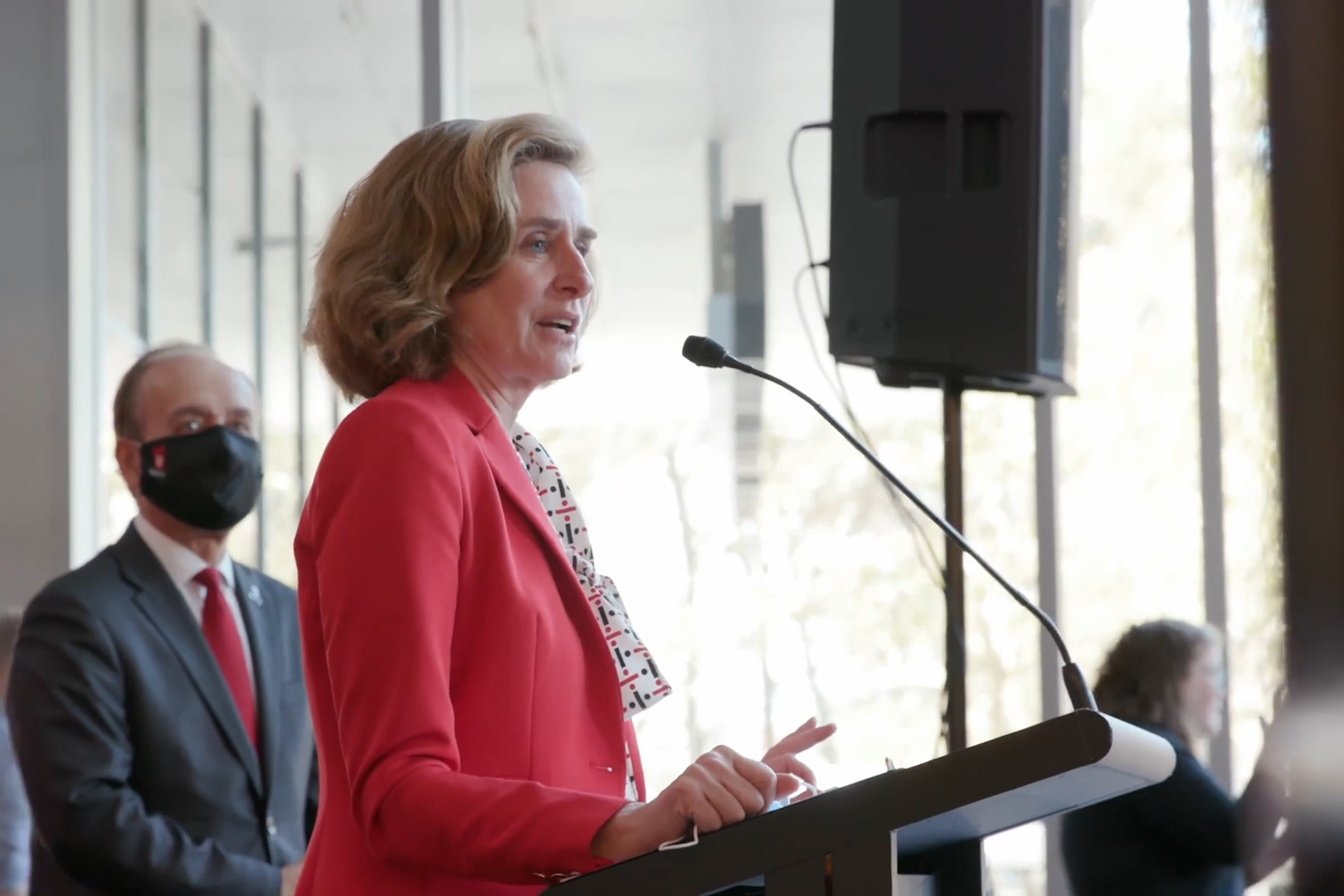 IU Trustees chair Quinn Buckner said the board is happy with Whitten. 
"I think she's done a very good job," he said in an interview. "She's done what the trustees expected her to do." 
Along with the focus on students, Buckner said, trustees appreciate Whitten's emphasis on diversity, equity and inclusion, including a $30 million plan to hire more diverse faculty and researchers. 
"It's good for those that don't normally get a chance -- for women, in a lot of cases, and minorities -- to see somebody look like them in order for them to aspire for those opportunities," Buckner said. 
Whitten has a five-year employment agreement with a base salary of $650,000 plus deferred compensation and an opportunity for a yearly bonus. She and her husband, Jason, a self-employed software developer, split time between two IU-provided residences: Bryan House in Bloomington and Lilly House in Indianapolis. 
Incredible complexity 
Barbara Snyder, president of the Association of American Universities, said it's a difficult time for university leaders, whether they're new to the job or not. Along with the usual challenges – managing a complex institution and working with students, faculty, staff, donors and the public – COVID and politics have made the job harder.
"What people don't appreciate fully is the incredible complexity of running an institution with so many different kinds of stakeholders," she said. "The context of university leadership is very different than the top-down context of a corporate entity or even a government agency." 
Ky Freeman, whose term as IU Bloomington student government president coincided with Whitten's first year at IU, said the president's engagement with students is genuine. 
"I had a lot of interaction with President Whitten, despite the fact that she was the president for all nine campuses," he said. "We met monthly to talk about what was going on, specifically to the Bloomington campus but also some of the problems that we're facing across all nine of the campuses." 
Freeman said Whitten has also interacted with students informally, chatting with them at Starbucks or taking pictures with them in the Indiana Memorial Union.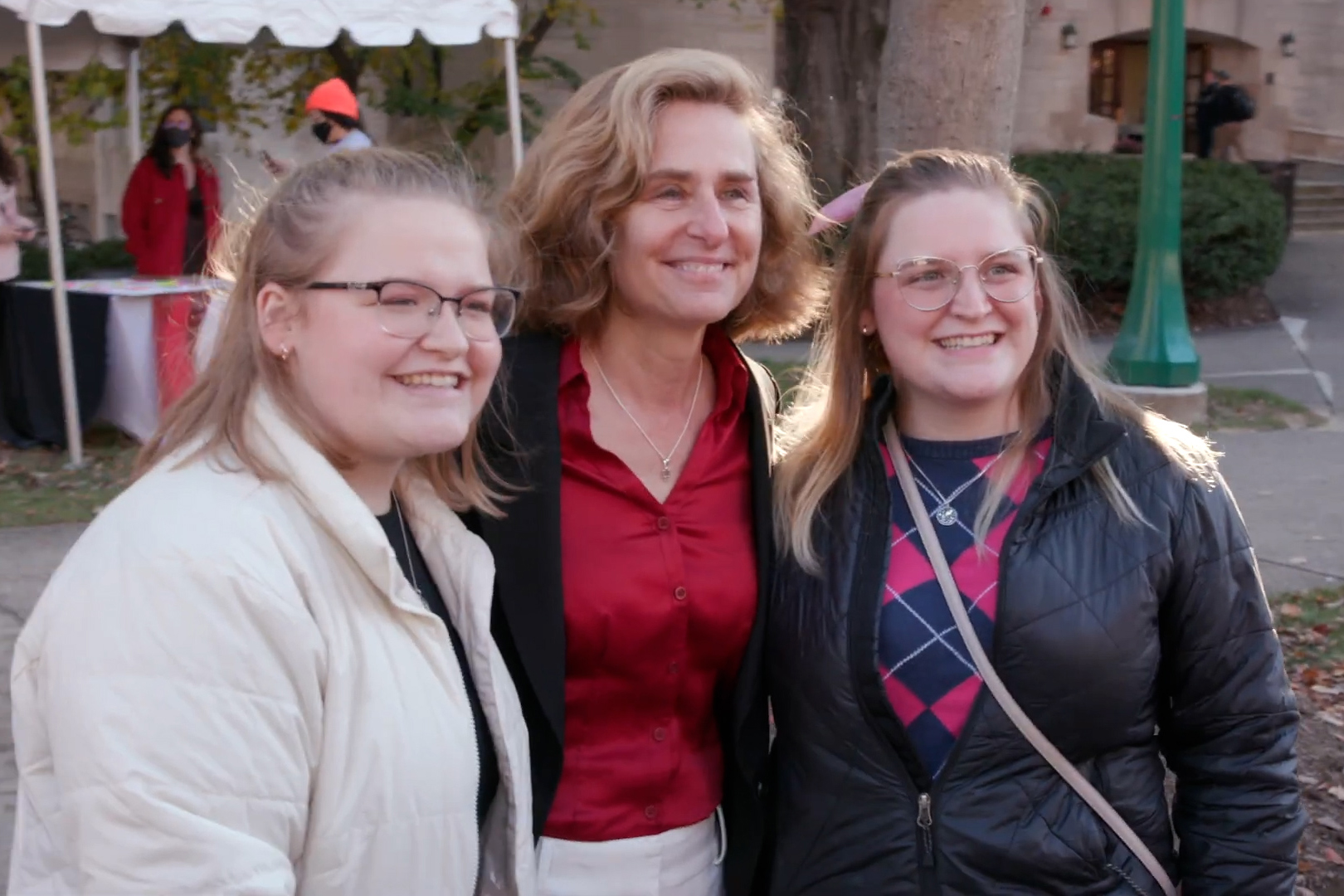 Greater Bloomington Chamber of Commerce President Eric Spoonmore likes Whitten's prioritizing of students and community engagement. He said Whitten delivered "some tremendous remarks" in June at a Women In Leadership event hosted by the chamber and Girls Inc. 
"Indiana University is a huge economic engine here in the community," Spoonmore said, "and so it's been really great to see President Whitten being so engaged with the business community.  
Sports as 'the front porch'
Bloomington Mayor John Hamilton said he's had only a few interactions with Whitten but more contact with the IU Bloomington provost. He said the city and IU have a strong relationship, with most of the cooperation taking place at the day-to-day staff level.
"The mayor and the President need to make sure that continues," he said. "And I think both of us view that is very important."
Whitten also welcomes being IU's No. 1 sports fan. 
"I have been a college sports fan since I was a little girl and hid behind my daddy's chair when he was watching college sports, when I was supposed to be in bed," she said. 
IU Vice President and Athletics Director Scott Dolson said Whitten understands sports are "the front porch of the university" for much of the public. 
"Her understanding of athletics is really, really good, particularly in the context of university," Dolson said. "Right from the start, what's really important to her, what has been reported to her and continues to be, is that IU athletics plays by the rules." 
Whitten's enthusiasm for sports contrasts with McRobbie, who seemed more comfortable at the opera than at a football game. She brings a different style to the job: less formal, more relaxed. 
She kept on some of her predecessor's lieutenants but named some of her own. She named new vice presidents of finance, legal affairs and human resources; each is paid about $100,000 more than his predecessor. She created a new position of vice president for student success. 
"When I came to IU," she said, "I was a little surprised, at the cabinet level, that we didn't have a vice president that represented the voice of students." 
While pep rallies have been a positive for Whitten, you can't say that about labor rallies. 
A graduate workers 'crisis'
Last year, a majority of IU Bloomington graduate student employees signed cards calling for union representation. They held a four-week teaching strike in the spring. 
Nora Weber, a doctoral student in sociology and a spokesperson for the Indiana Graduate Workers Coalition, said the university had failed to act on data showing pay and benefits were lacking for students who teach classes and conduct research. What do they want from Whitten?  
"Clearly, coming into a meaningful discussion," she said. "Saying, yes, I actually want part of my legacy at IU to be addressing and improving the conditions of graduate workers on campus and addressing it through the union."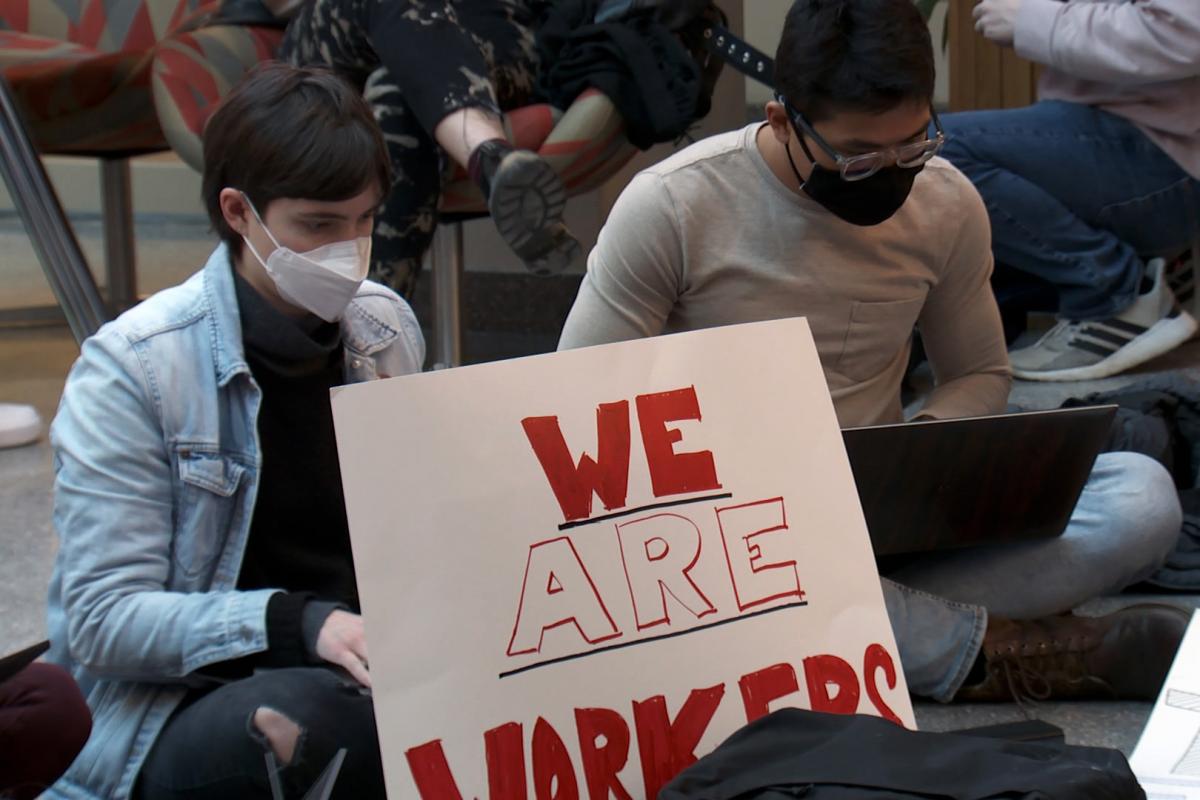 IU has refused to recognize the union, however. The impasse led to a mass meeting attended by about 700 faculty. In an email vote, nearly three-fourths of faculty said IU should let graduate workers decide on a union.  
"I think that's enormously significant," said Robinson, the AAUP leader. "I mean, it's simply unprecedented in the history of IU that that many people come up and take a position on governance." 
Steve Sanders, the Mauer School of Law professor who wrote about Whitten's hiring, opposes the union but faults how Whitten has responded. 
"This is the biggest crisis the campus faced, this past year, maybe in a number of years," he said. "It's certainly the biggest disruption and the biggest controversy. And she was just literally nowhere to be seen and nowhere to be heard on that issue." 
This month, IU leaders said they will raise pay significantly and eliminate fees for graduate workers. A task force headed by Provost Rahul Shrivastav recommended the move. 
READ MORE: Graduate workers say they signed new contract under duress
Union supporters say it wouldn't have happened without their pressure. But Whitten said the way to work through the issues is through existing IU channels – not a union. 
"I think the trustees have spoken very clearly in expressing that that's not the avenue for this university to go down," Whitten said.  
Polarized expectations
Snyder, the Association of American Universities president, said one of the toughest challenges for university leaders is knowing when to speak on controversial issues.
"And, in an increasingly polarized society," she said, "it becomes more challenging by the day."
This summer, the Supreme Court overturned Roe v. Wade. Indiana promptly banned nearly all abortions. The 50,000 IU students who are women lost a right that Whitten's generation took for granted. IU and its leaders have been largely silent. 
Hamilton, the Bloomington mayor, is among those who think that's a mistake.
"I do encourage the university to speak up about the impact of this decision," he said. "I believe it will be very deleterious to the university, to our community to our state."
But Whitten said it's not appropriate for her to take sides. 
"As the president of a public university, it's not my role to take my own personal opinions and represent them as everyone's. So, you know, we're a very large institution, with many opinions across like a continuum." 
Whitten added that IU respects the First Amendment and encourages faculty, staff and students to express their opinions. 
Whitten was also criticized for not speaking more forcefully when politicians vilified Dr. Caitlin Bernard, an IU School of Medicine faculty member who performed an abortion on a 10-year-old rape victim. 
READ MORE: IU president Whitten's defense of Dr. Bernard gets mixed reception 
"The dean of the medical school and I have actually both spoken out," she said. "We made a statement that, I think, expressed our appreciation for her reputation, not only as a faculty member of good standing, but as someone who enjoys a reputation for a sincere, deep, caring approach to her patients."  
Buckner, the trustee's chairman, said the board backs Whitten, both overall and in her handling of controversies. 
How much do they back her? Based on their evaluation of her first year, they voted Aug. 12 to award her a bonus of one-fourth of her salary. That's $162,500. 
See her contract:
Pamela Whitten IU President Employment Agreement 4.14.2021 by Indiana Public Media News on Scribd
Steve Hinnefeld covered K-12 and higher education as a daily newspaper reporter for The Herald-Times in Bloomington, before working in communications and media relations at Indiana University. He's been an adjunct faculty member at the IU Media School and for more than a decade has written about education issues in a blog called School Matters.