A house, tucked away in a suburb of Noblesville, is filled with activity at 5:30 p.m. It's dinner time and leftovers are on the menu. 
Sarah Michaels serves pizza up for two of her 18-year-old foster kids, Katia Marquez-Tandelaria and Megan McCallister, and their children, who are one and two years old. 
Roughly 20,000 children age out of foster care annually in the U.S., including upwards of 300 kids transitioning out in Indiana.  
Michaels is focused on helping Marquez-Tandelaria and McCallister transition out of the system and care for their own children.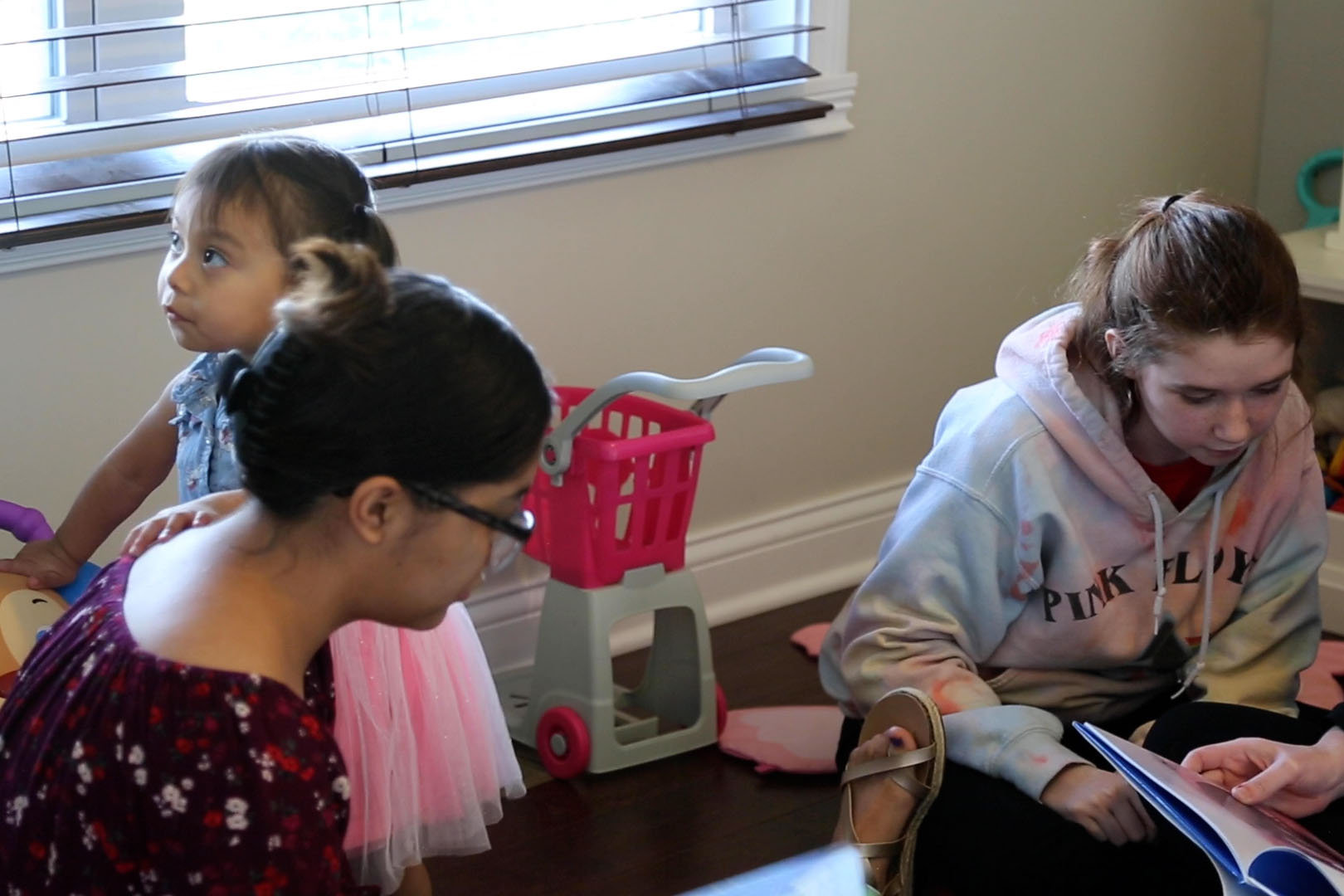 The Department of Child Services has a program which helps youth aging out get an apartment. But Michaels said many young adults she works with need more individual support and guidance.
"Where our system sometimes fails these older youth, is we have this great concept of getting kids into apartments once they turn 18 years old," she said. "And the idea is to help kids live independently. But the problem is we've removed all their support systems. And I've seen so many children fail when they've been given an apartment or are now on their own."
Michaels wants to see DCS focus its efforts on making it easier to foster older youth. From 2020 to 2021, the number of foster homes available dropped by nearly five percent in the state. 
She said it's tough to find homes that can take teenagers, and the homes that do are at capacity.  
"So, we're consistently getting exceptions approved just to go above capacity," Michaels said.
She houses three older youth now and has housed more than 40 in her six years as a foster parent. She said it's not unusual to house five girls at a time.
Marquez-Tandelaria and McCallister are participating in collaborative care with DCS, which is part of staying with Micahels. They'll officially age out of foster care at 21 but can voluntarily receive services until 23. 
Michaels wants more kids to receive help for longer. But McCallister said remaining in the system after turning 18 feels like DCS is hovering over her.
"As we're 18 and we're growing out of the system and we're voluntarily staying here, they're trying to be more into our business instead of letting us be an adult and letting us learn by ourselves," McCallister said.
She said remaining in the system as a teen mom means she has to defend herself in a way most young mothers don't.
"It's hard when you come from a family that has lost all their kids, are addicts, everything else," she said. "Now, they're doing the same thing to me, along with [my daughter], just trying to get involved as much as they can no matter what."
She just finished high school and has a job. She was pregnant while in school and had to go to her doctor's appointments on her own.
Marquez-Tandelaria and her 2-year-old moved in with Michaels in April. She said she left her family because she was being sexually abused by a relative. 
Now, she's dealing with an added complication of immigration status. When she entered foster care, she found out she wasn't technically a U.S. citizen.
She wants to attend college and work but is waiting on a special juvenile immigration status to be approved. 
"Right now, I'm a stay-at-home mom mostly because I can't really go to school without having to pay out of pocket, I can't get a job," Marquez-Tandelaria said. "And immigration is moving forward but we've been waiting nine months. It's really hard to be in this situation and not feeling stuck."
Her dream is to be a pediatric nurse or a teacher. 
Michaels said providing family support was more important than ever to young adults during the pandemic. The last three years saw the largest population of young adults ever move back in with their parents. Kids in foster care didn't have that option. 
And Michaels expects it will get harder to meet specific needs for people like McCallister and Marquez-Tandelaria as federal funding made available during the pandemic expires in September. 
Foster Success's Megan Trible agrees. She said the number of youth struggling to afford necessities dropped because of extra funds available.  
"So now the youth are going to be feeling the effects of normal life again," Trible said. "And there are still the residual effects from the pandemic."
She added that 25 percent of people who age out of foster care experience homelessness and are far less likely to earn a high school diploma in four years than their peers. 
Marquez-Tandelaria and Megan are already beating the odds, with the support of Michaels.
"I think coming to Sarah's house, where I know it's not only going to be good in the beginning of the stay," Marquez-Tandelaria said. "Sarah's such a wonderful parent, who will give everything for you and treat you like you're their own."
According to DCS, 332 foster youth in the state recieved voluntary services in 2021, up from 266 the year before.