The Greater Bloomington Chamber of Commerce held the Community Conversations: Future of Lake Monroe event Friday.
It featured a presentation from Lake Monroe watershed coordinator Maggie Sullivan and a panel discussion featuring on challenges that may impact businesses, tourism and sustainability.
During her presentation, Sullivan discussed the threats facing Lake Monroe and the 2022 Lake Monroe Watershed Management Plan.
"The big thing I wanted to do was give an overview of Lake Monroe and the top issues facing the lake, which are harmful algal blooms, sediment, nutrients and fecal contamination." Sullivan said in an interview.
She also wanted to discuss the Watershed Management Plan and the steps it outlines for addressing those problems at the source.
"By making changes up in the watershed so that those contaminants don't get into our water," Sullivan said.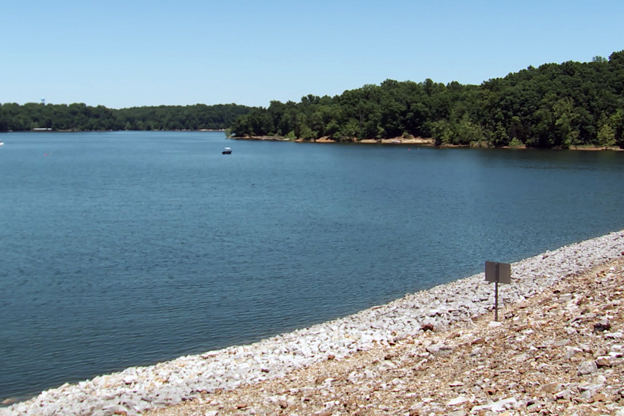 During her presentation, Sullivan said the watershed plan addresses sources of pollution in Lake Monroe's watershed by changing land use practices.
Additionally, Sullivan said all work on the plan would be voluntary and that her organization wanted to work with landowners, apply for grants and implement education and outreach programs.
Making changes in the watershed, Sullivan says, will require a lot of work from a lot of people.
"The more people understand about the problems, the more likely they are to make changes at home that can be part of the solution," Sullivan said. 
The most important thing for people to understand, she says, is that Lake Monroe is their source of drinking water and it needs to be protected as there's not really an alternative.
"And that now we have another tool, the Lake Monroe Watershed Management Plan, that will help us do just that," Sullivan said. 
During the discussion, panelists discussed the impact of Lake Monroe on tourism and the economy along with the lake's importance as a local resource.
Eric Spoonmore, president and CEO of the Greater Bloomington Chamber of Commerce, said the chamber wanted to have a conversation that brought all their community partners together to discuss Lake Monroe's importance and its impact on the community.
Spoonmore said the chamber was very concerned about the health and sustainability of the lake because of its economic, drinking water, manufacturing, talent acquisition and business investment impact. 
"And how it really just touches all aspects of life here in Bloomington, Monroe County," Spoonmore said.
He said it was important to bring members of the business and Bloomington community together to discuss important topics like Lake Monroe because it's a community asset and 'number one' resource.
"We need to make sure that we're preserving it so that we have this resource available to us for generations to come."