Federal prosecutors, drug enforcement agents and state-level law enforcement officials gathered at the Evansville federal building last week to announce indictments against the alleged leaders of a multi-state fentanyl ring.
The Evansville-based group allegedly purchased fentanyl powder in Louisville to produce counterfeit pills that were sold around Evansville and the surrounding area.
Michael Gannon, the DEA agent overseeing the case, said authorities seized over 1,000 pills and the presses used to make them.
Karen Warpenburg livestreamed the announcement from her bedroom. After years of struggling with substances, she now runs the Evansville Recovery Alliance, a nonprofit that advocates harm reduction for drug users.
The news of the bust came as a relief. Evansville, like the rest of the state, has been ravaged by fentanyl in recent years.
But Warpenburg was also troubled by parts of the presser, namely when a reporter asked if people were taking advantage of the overdose antidote Narcan, which is available for free throughout in the city.
Evansville Assistant Police Chief Phil Smith said he knew it was available at local pharmacies but didn't have exact numbers on how often it's used.
"There is overwhelming evidence [that] over the last year we've had more overdoses than we ever had," Smith said. "So, the need for it is definitely there."
The exchange led to a familiar feeling of frustration for Warpenburg.
"I wish he'd give me a call," she said. "I've got at least 60 Narcan in my car right now that I'm willing to distribute."
Warpenburg's spent the last five years pushing for more harm reduction services in Evansville. The Recovery Alliance hosts training sessions with Narcan, stocks the city's public Narcan boxes, and provides safe use kits to those who ask for it.
Despite that progress, she feels many in the city don't understand the effectiveness or availability of local harm reduction services. Some, she says, would prefer not to expand them.
"They don't think they're gonna run into it in their own lives," she said. "They don't want to associate with it, I guess."
Nearly 60 percent of those deaths were attributed to fentanyl.
"It's in everything," Warpenburg said. "Pills now, heroin, cocaine."
Gannon, the DEA agent, says drug dealers have been tainting the market with fentanyl for years. The move serves multiple purposes: it helps a dealer stretch a supply and is incredibly powerful, keeping customers coming back for more.
"It's 50 times more potent than heroin and 100 times more potent than morphine," Gannon said in an interview after the news conference. "You're gonna get people addicted."
But the recent fentanyl bust shows a newer, more concerning development to Gannon – an increasing amount is being produced domestically. And Evansville's location on the state line makes it a hotspot for drug trafficking.
"They're constantly having significant seizures of fentanyl and methamphetamine here in Evansville," Gannon said. "We're talking 50 pounds, 30 pounds, 100-150-pound investigations."
Two milligrams of the drug – the equivalent of a pencil tip – can be lethal. During and after the news conference, he stressed the importance of grassroots efforts to prevent overdoses.
"We can't just arrest our way out of this," he said.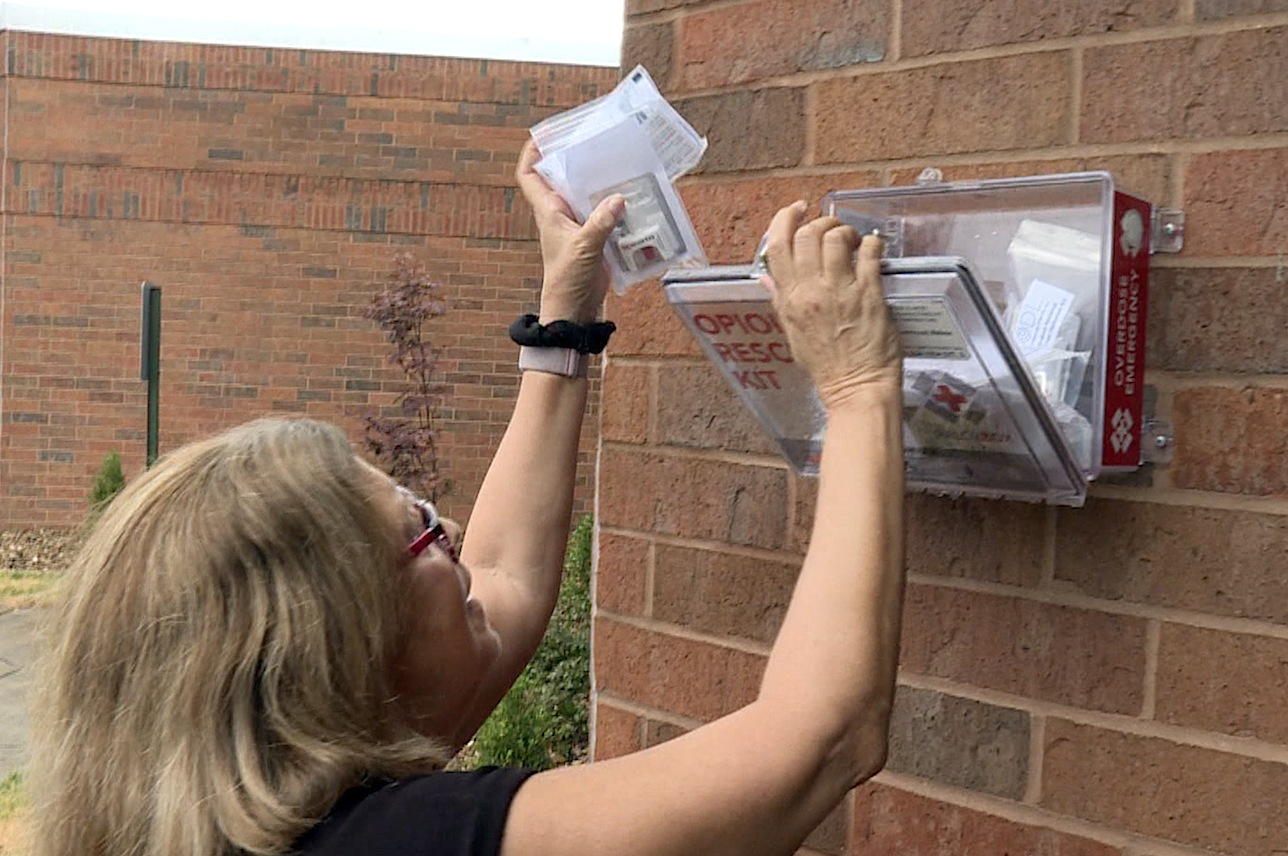 Warpenburg and the Recovery Alliance scored another victory this week when they installed the county's sixth overdose reversal box.
The group would like to add fentanyl test strips to the kits, but under state law they could be considered drug paraphernalia. According to Warpenburg, the county prosecutor has said they're in the clear, but she won't take any chances without something in writing.
"It's very frustrating," she said. "It could be very helpful to someone who's still using drugs and potentially prevent an overdose."
She'd also like to help start a needle exchange in the county, especially considering it experienced the fourth-most overdose deaths in the state; she's convinced an exchange would help prevent overdoses with safe use kits and lead people to recovery.
But officials haven't been keen on the idea of providing drug users with needles.
"It's just not a popular idea for conservative people that just think drug use is bad and people should stop using drugs," Warpenburg said. "But we need to help those people that are using drugs and get them to a place where maybe they want to stop using."
Still, Warpenburg remains optimistic. She battled addiction after being prescribed fentanyl patches in 2005. She's been in recovery for three years now.
"I think the more that people know and the more work we do, that there'll be more of a positive outcome," Warpenburg said.
Just last week, she heard from two people who used her Narcan to save a life.