In 2018, businesses in Bloomington's 10th Street Crosstown Shopping Center began to disperse in advance of a new development planned for the site. But the site is half empty now and shows no sign of new construction.  
There was a time when Crosstown Shopping Center was a bustling place – side-by-side complexes home to many popular restaurants and shops over the years. Popularity brought on parking challenges.
That all changed in the fall of 2018. WS Property Group announced plans to redevelop for Indiana University the property into a multi-story, mixed-use development housing both commercial space and offices.  
The multi-million-dollar Crosstown Station project would have included a pedestrian walkway and outdoor seating. 
READ MORE: Crosstown Redevelopment Project To Get Underway In Oct. 2018
But now, the shopping center is half the size it was, it's eastern half a grassy, empty lot. Pizza X and Subway are still operating in the remaining space; Mura Sushi has recently reopened. And you don't have to circle the parking lot waiting for a space to open up.     
Many Bloomingtonian's are wondering what happened.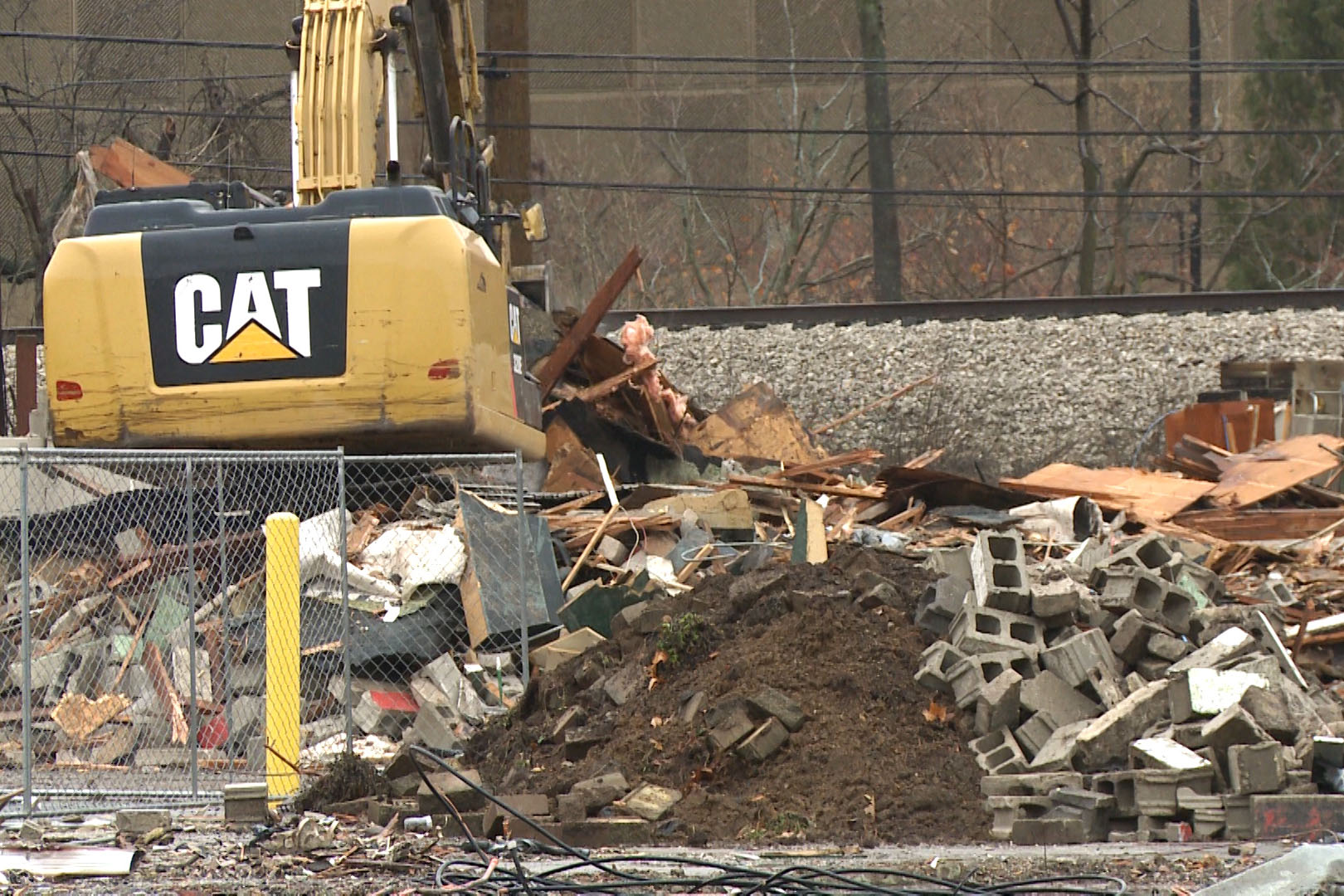 "Really, the Crosstown Plaza is not anything that we or the university nor the IU Foundation is redeveloping at the current time," said Tom Morrison, Vice President for Capital Planning and Facilities at Indiana University. "The university has long-term plans for that site --it exists in our master plan-- but we have nothing on the short-term horizon."  
The IU Foundation owns the property.   
Morrison said COVID was the project's undoing. He said in the initial months of the pandemic, students weren't on campus and revenues were down.   
"We had to look at right away, what are the things we can do to make sure that we could be financially stable," he said. "And so there were a number of capital projects at the time that we put on hold. This was one of them."  
The project is also a casualty of pandemic-induced changes in the university's operational life. Morrison said personnel from IU's financial services departments likely would have been housed at the new Crosstown Station, but they now work remotely or they've been accommodated in university properties elsewhere.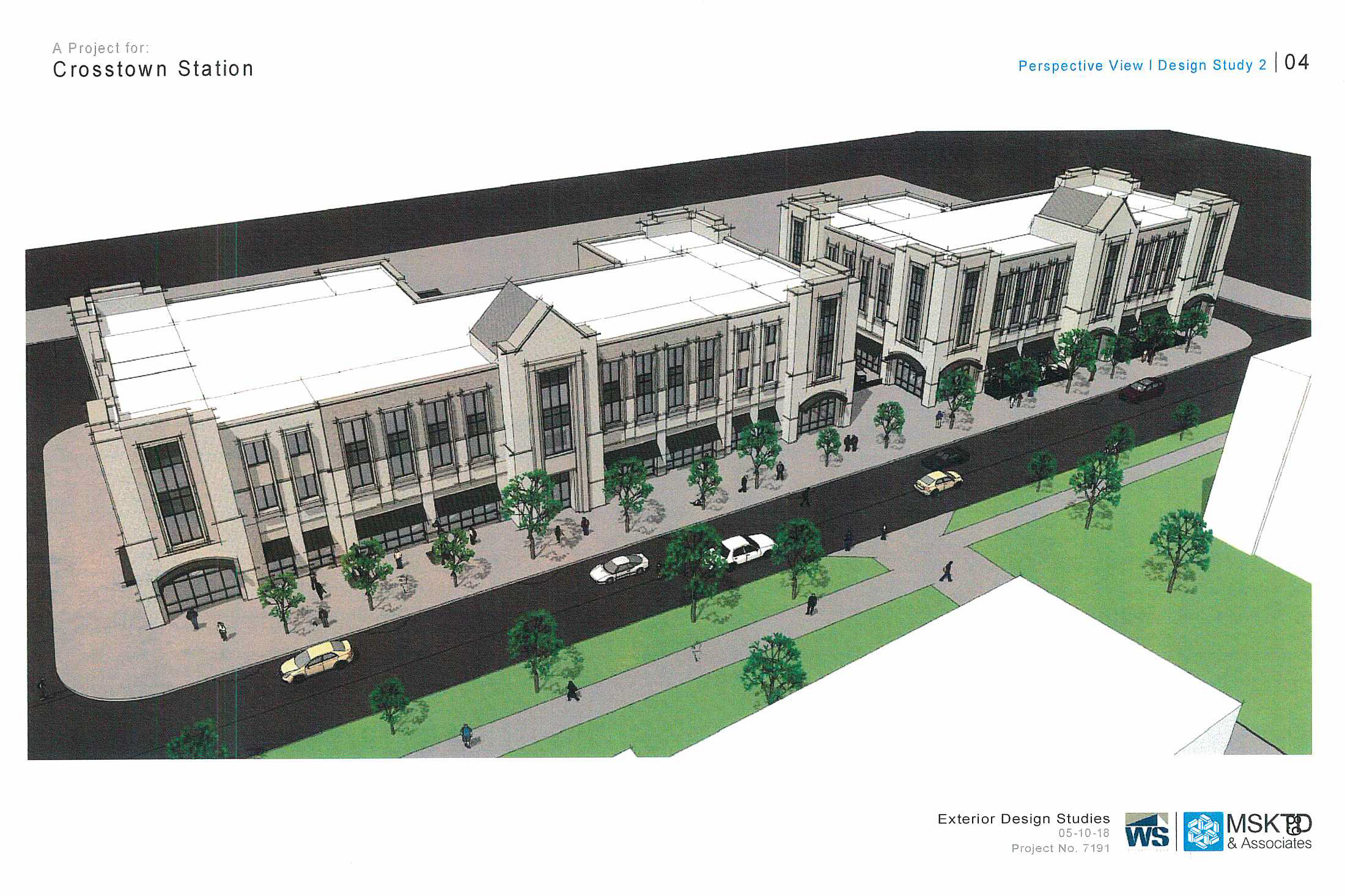 Back in 2018, the plan put forward by developer WS Property Group was to bring the project to fruition in two stages, starting with the center's east side. Once the east building was finished, tenants in the west building could move to the new building, and construction could begin on the west side of the property. Two businesses being positioned to make that move were Pizza X and Lennie's.  
Crosstown Shopping Center is Pizza X's original location, and it continues to operate there. But owner Jeff Mease estimates building a new Lennie's on the east side of the Crosstown property would have meant three years of demolition and construction, potentially creating confusion about whether Lennie's was still operating there. And parking would have been an even bigger mess.  
"From a developer's standpoint, they want a new lease. But somebody's got to build the new restaurant," Mease said. "So let's say it costs a million dollars to build a new restaurant. We don't have a million dollars. So we were trying to look for a way that, you know, I could say, as a restaurant operator to a developer, you're gonna bulldoze our old restaurant, so you can build a nice new building… but we don't need a new restaurant, really. Our restaurant is working just fine."   
Mease opted to relocate downtown, to the former Finch's Brasserie and Roost on Kirkwood Avenue at a cost of about a half a million dollars. Mease estimates the cost is a little less than half of what it would have cost to stay and create a new restaurant at Crosstown Station. He took the lesser "financial hit." 
When asked if he's been able to recoup the cost of the move, Mease said if you plugged all the numbers into an income statement, Lennie's probably wouldn't look like it has made any money, especially given the pandemic when it was temporarily closed. But these things take time, Mease said.   
"You gotta have the long view on restaurants in a small market like this."  
Mease said he's happy with the restaurant's new location. 
"Arguably now we're in the best restaurant location in Bloomington," he said. "I mean, it's really just steps from the Sample Gates and we have a nice wood-fired oven. And it's a great building. Great location."  
Parking, though, is still a challenge.  
IU's Morrison said need is the No. 1 driver of capital projects and right now the university doesn't need the Crosstown space. He said the university will continue renovation and rehabilitation projects, including The Ferguson International Building and the Collins residence hall renovation. But the current view of Crosstown is that there won't be much more than upkeep going on. 
This story has been updated since the audio version was filed to reflect Mura Sushi's reopening in the shopping center.