Hops, one of the main ingredients in beer, isn't a crop that's found on most Indiana farms – of the state's 15 million acres of farmland, just 80 are used for hops.  
But in Monroe County, a farmer recently patented a unique variety of the plant that he says could revolutionize the state's hop industry. 
"It's sort of an amazing thing," said Mike Baker, owner of Clearview Farm. "Just by luck, all these things sort of came together." 
Baker discovered the hops on his farm almost as soon as he and his wife Beverly bought it back in 1979. Nestled in the rolling hills of northern Monroe County, Clearview Farm is heavily wooded and, at the time, was fairly overgrown.  
At first, they thought the hops were weeds that just wouldn't leave their shed alone. Yet upon further inspection, the couple realized the prickly vines were actually hops – the beer ingredient that gives many brews their flavor.  
"We decided, 'Well, that's nice,'" Baker said. "We just let it grow." 
The shoots would come up each spring and disappear come winter. Baker didn't think much of them, but the topic would come up from time to time with friends. 
"They'd always ask, 'Are you going to make beer?'," he said. "And we'd say, 'We don't even know what to do with it.'" 
That changed when Travis Wade reached out about the plants. He asked if he could take a sample back to his genetics lab in Bloomington, and when he ran it through the database, it didn't match up with any other hops.  
So they sent it to Purdue's Hops and Brewing Analysis Laboratory, where they received the same answer. After some more research, they realized it was a unique variety of the plant that had been growing at the farm for close to a century. 
"We immediately knew that this was something very real," Wade said. 
The Clearview crew got to work on the plants – they started a company, CV Hops LLC, and eventually patented a variety called CV-12 hops. The patent was awarded earlier this year.  
CV-12 has a spicy, piney, citrus flavor profile, which Baker and Wade say would allow it to pair well with other varieties. But the real development is the vigor with which the hops grow in southern Indiana's hot, humid climate. 
"[Our hops] shouldn't be growing here," Baker said. 
Typically, the sweet spot for hops is along the 45th parallel, well north of Clearview Farm. 
Ninety-eight percent of American hops are grown in Washington, Idaho and Oregon, where the growing days are longer, and the climate isn't nearly as harsh. Hops also aren't as susceptible to mildew in the more arid Pacific Northwest 
Baker and Wade say the idea is, if their hop variety has thrived in Indiana for 100 years, it could be combined with other hops to expand the footprint where the crop can be grown. Or the Clearview hops could be harvested wide-scale. 
"We think there's an opportunity to use this patented plant for further breeding and genetics for people that want to grow [hops] in the Midwest," Baker said.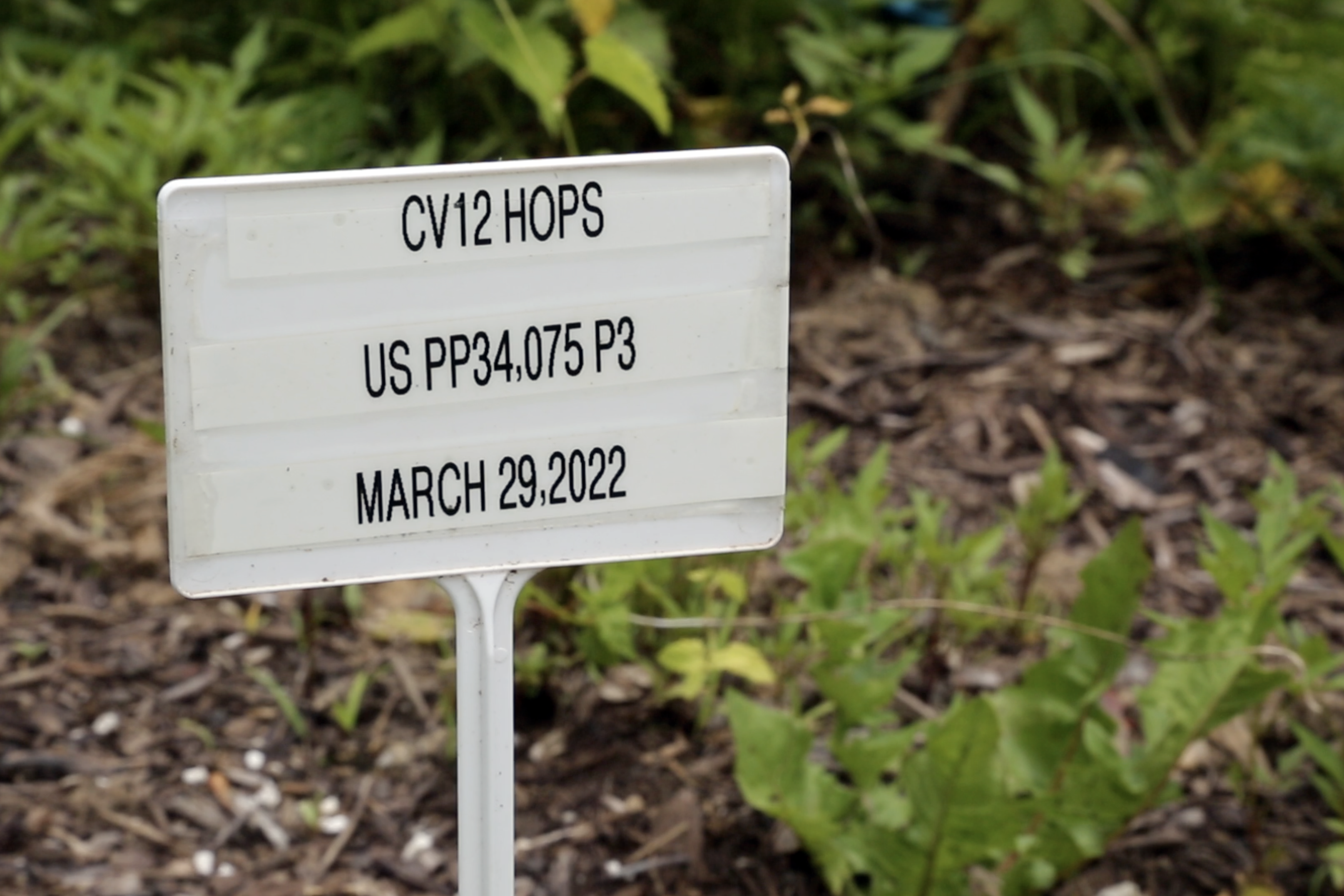 Hop Growers of America, a Washington-based trade group that represents hop farmers, has taken notice of the development. The Pacific Northwest has been going through a rough stretch recently – wildfires and last year's unprecedented heat dome have affected production. 
Maggie Elliot, the science and communications officer for the group, says she'll be looking to see how the Clearview hops handle heat stress and other pests. 
"Having [hop] varieties that are able to adapt and do not experience diminished yields with these types of stress targets will be of critical importance for the industry moving forward," Elliot said. 
CV-12's patent notes the variety's increased cone size and unique oil contents. Baker and Wade say its cones form at 12 feet, as opposed to 18 feet for most hops. They've gotten calls from interested parties around the globe.  
"The response has been overwhelming," Wade said. "It seems that this kind of opens up a lot of other growing regions across the planet." 
The U.S. Department of Agriculture is also keeping an eye on CV-12, but research geneticist Kayla Altendorf said it's too early to determine if the variety will be a game-changer.  
"In plant breeding, we have this well-known concept called 'genotype by environment interaction,'" Altendorf said. "Because [a plant] does super well in one or two environments, it's really hard to say how it will do outside of that environment, or even just in the next county over."  
She, too, would like to see how the hops handle heat and other stresses, and what kind of yield Clearview gets this year. Then, CV-12 would need to be tested outside of its current growing area and slowly expand from there. 
"If there's interest in expanding outside of the target growing region, we would need to test in, for example, the Pacific Northwest," Altendorf said.  
Baker and Wade expect anywhere from 4 to 12 pounds of hops this harvest. Cones start forming at the Summer Solstice and are generally ready to pick around September.  
After that, the Clearview crew will partner with Bloomington Brewing Company to create a beer centered on CV-12. It takes 4 pounds of hops for a 10-gallon brew. 
"It's going to be a blonde [ale]," Baker said. "I think a great name for it would be 'Indiana Blonde.'" 
Clearview's team is working on developing a handful of other varieties they hope to patent, and it'll likely take years to determine how viable CV-12 is. 
In the meantime, Baker's imagining a future where Hoosier hops grow across the Midwest.