Monroe County residents will already pay more in local income, and most will pay more in property taxes next year. Voters must now decide whether to reach deeper into their pockets for the largest local public school referendum since 2010. 
"From the school's point of view, all these extra taxes that people think they're paying and actually are paying doesn't do any good," Purdue University emeritus professor in agriculture economics Larry DeBoer said. "They still have the same need. And if you're in the sixth year of your operating referendum, it's likely to be running out pretty quick."
That's the position Monroe County Community School Corporation is in- it will be pushed off a fiscal cliff in 2024 without a new referendum.
READ MORE: MCCSC previews fall referendum, addresses 'misleading' ballot language
In 2010 voters approved a 14-cent levy on every $100 of net assessed property value, which generated $7.3 million annually. In 2016, voters renewed the same investment. Adjusted for inflation, that money would be worth $9.6 million today.
Yet, the district wants $15.5 million annually, which is an 18.5-cent rate - almost a nickel above the 2010 rate.
"But we can do so much more with that money," superintendent Jeff Hauswald said.
He said teachers will receive an additional $4,500 annually, staff wages will increase $2.25 per hour and the district will invest $1.2 million in special education, performing arts, and STEM – Science, Technology, Engineering and Math.  
"Those needs are not getting addressed from state funding," Hauswald said.
MCCSC estimates the average homeowner with a net assessed value of about $135,000 will pay about $127 in additional taxes each year.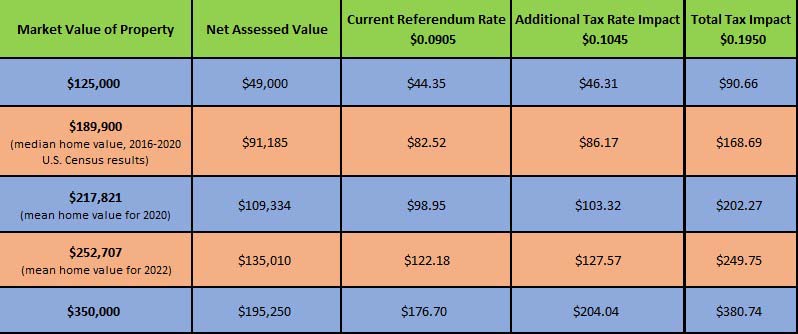 While local referendums passed with 60 percent and 80 percent support in 2010 and 2016, respectively, Hauswald said he's not worried about this year.
"People in our community have told us over and over again that they support K-12 public education. It's an investment," he said. "It increases the overall health of our community, a quality of life, business attraction, educational attainment, assessed property values, all of these things are enhanced when you invest in K-12 public education."
DeBoer said Indiana is not special considering 47 other states use a similar system. He calls them "safety valves" for school districts who want to do more. 
"The state rigorously controls how much can be raised by property taxes and provide only what they provide," he said. "If you want to do more, you've got to do it yourself. And this is the avenue for doing it yourself."  
Indiana has had 153 operating referendums since 2009. DeBoer said the influx could be a result of circuit breaker credits coming in, which reduced funding from property taxes. At the same time, the great recession hit, and the state essentially froze the budget for five years. School funding started to fall behind the curve, and referendums became a reliable source of funding for almost half the state's districts.
DeBoer said Indiana had six referendums on the May 2012 ballot, and they averaged 60 words on five lines. In May 2022, the nine referendums averaged 136 words on 12 lines.
"We're expecting folks to do a lot of reading, and I suspect that they don't," he said. "So the important thing is to know what this is about in advance before you walk in the voting booth." 
READ MORE: Superintendent: Low pay to blame for MCCSC staff, teacher shortages
The referendum on November's ballot will appear as a 34 percent increase, but it's only an increase to the portion of the bill paid to schools.

Think of the issue like a ladder, and each rung is a referendum. With its feet on the ground, MCCSC has a base rate it taxes. In 2010, voters allowed the district to go one step up. Then, in 2016, voters allowed the district to stay on the same level. Now, MCCSC wants to go up another step.
If you calculate the jump from the first step to the second step, MCCSC is proposing a 15 percent increase. But under state law, the percentage is calculated using the floor and the proposed top step. This is because each referendum is a new tax, and the amount people pay would drop if the referendum failed.
"So this is a kind of counterfactual problem, as we call it in social science," DeBoer said. "What do you compare it to? What exists now or what would exist if the referendum didn't pass?"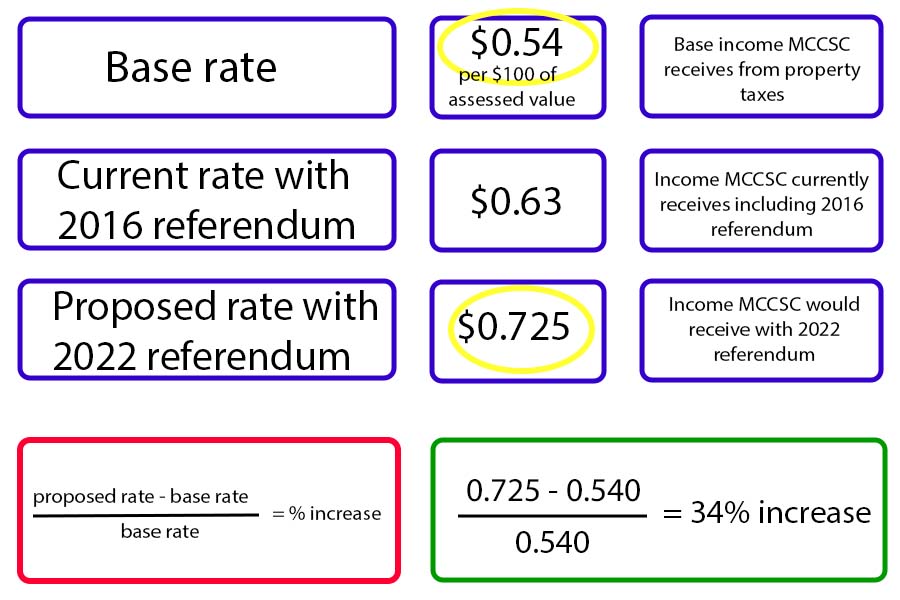 DeBoer said he sympathizes with the legislature's attempt to refine the language.  
"They are clearly trying very hard to inform voters as to what's happening," he said. "Yes, some of what they've done is misleading….And the only solution is, do your homework before you go into the voting booth."
MCCSC's board of trustees will meet later this month to officially place the referendum on the November ballot.