Bloomington summers are no stranger to construction projects.
Larger projects, especially the ones close to Indiana University, have tight deadlines. Last year it was the 7-Line protected bike lane, and this year it is part of a multimodal path on 17th Street.
"There's just always something happening in Bloomington, especially this time of year," Monroe County resident Kimberly Horne said. "As soon as the students are out, it's like bam! All kinds of things are going on." 
Horne wrote into the City Limits desk wanting to know if there is an updated, easily accessible website to find out what is being built in Monroe County. She's mostly curious which roads to avoid during construction season. 
"If you could like just go to a map and say, 'this is the route I'm taking,' or 'I'm just curious as to what's happening here,'" she said.  "It's just so much easier to have the visual access."
All the information Horne wants is public, it's just not in one place.
Monroe County updates a weekly list, and the City of Bloomington has a program called "InRoads." It is an interactive map with up-to-date road, sidewalk, and parking conditions. The map can even be adjusted to show past closures.   
And up until May 2019, the county's projects were included on the city' InRoads platform. However, highway department direction Lisa Ridge said she doesn't know who uploaded these projects. She said the county is willing to share its data or create its own map.
"I think that would be a great thing to add to our website," Ridge said. "We could always put together a map that is not a problem."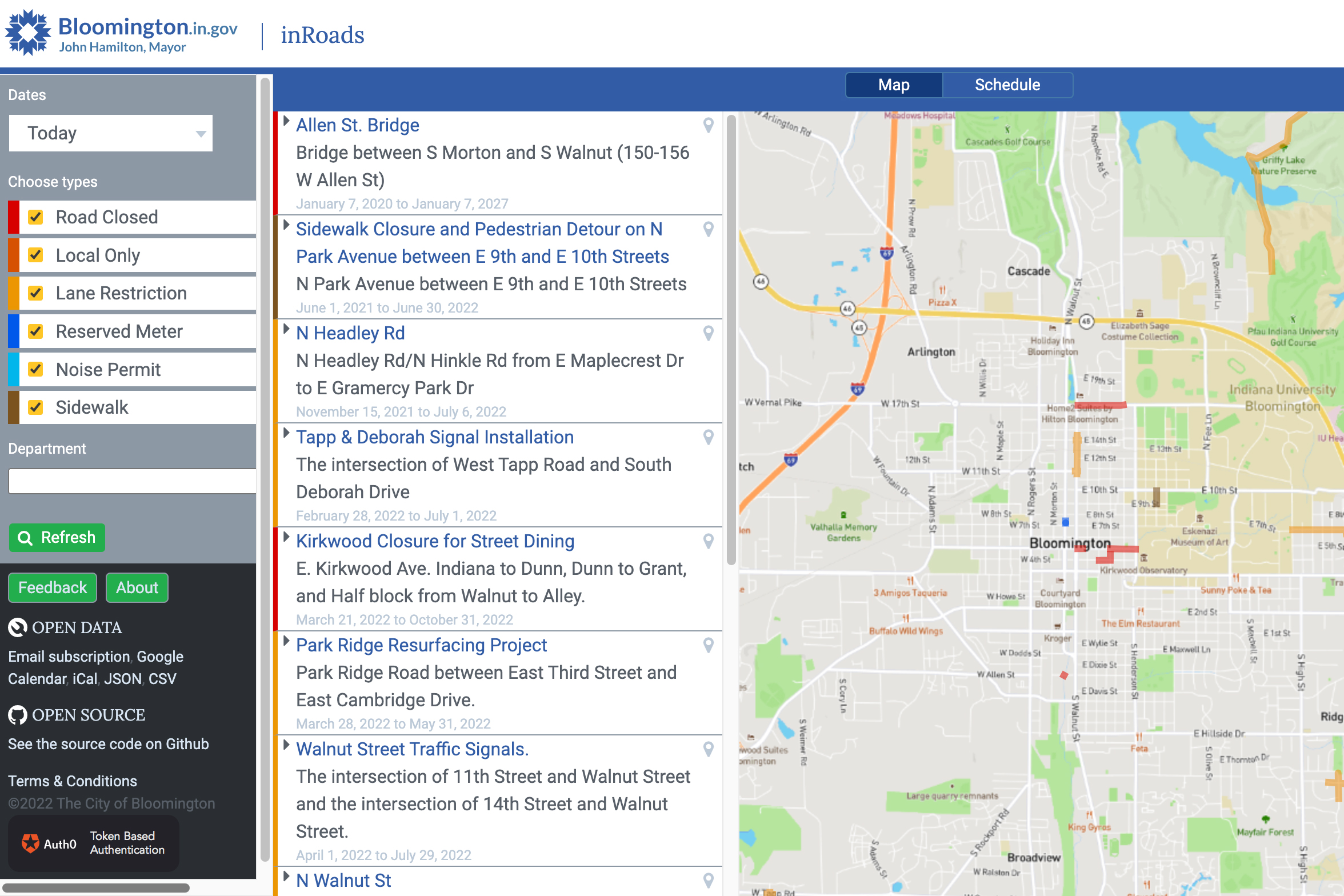 READ MORE: How does Bloomington decide where to place traffic calming projects?
One downfall of InRoads is that it does not include repaving projects on Bloomington's 237 miles of road. The city keeps a separate map and schedule for these projects.
The county does not have a schedule specific to repaving projects. Instead, county lists focus on construction and major infrastructure projects. So how does the county prioritize its repaving projects? 
"How we prioritize varies on what the project is," Ridge said. " It could be due to a bridge sufficiency rating, it could be due to improve safety in an area, or it could just be we have 15,000 cars a day on that road, and it needs attention for paving." 
She said the county receives a lot of requests, but it's impossible to repave year-round.
"We wish we could pave year-round," she said. "And we can't, of course, with Indiana weather."
"And we don't have the budget to be able to pave 725 miles of roadway. So, we try to stretch those dollars as much as we can, but it takes about $100,000 per mile to pave a road."
Currently, the department budgets about $1.4 million annually for paving, patching, and sidewalk repair.
"We try to utilize the funds the best of our ability," Ridge said. "It just doesn't always make everybody happy where we can pave and where we can't."
She said the county has received about $35 million in federal and state funding since she joined the department in 2016.  
"Most counties don't have 16 or 17 federal aid projects that we have, but we get the jobs done," Ridge said. "We feel like that's why we get awarded when we submit a project." 
Ridge said the cost of construction projects is almost double what it was one year ago. She expects prices will get worse before they get better.  
And high costs could mean less construction soon, but it also could mean more potholes and unsafe roads.