Annexation is a controversial topic right now in the City of Bloomington.
Public hearings on Bloomington's annexation proposal ended Wednesday night. Nearly every person who commented spoke in opposition to being included into the city. They said annexation will mean more taxes, more restrictions, and more city services some county residents don't need.
Andrew Briggs lives in proposed annexation area one A and said the annexation process is taxation without representation.
"I think you ought to make a referendum on next year's mid-term election," Briggs said. "I appreciate the concern of the woman who would like to get public transportation, but to force this thing down people's throat, a resistant taxpayers throat, it's not a thing of integrity."
Bloomington Mayor John Hamilton is proposing annexing 9,200 acres and 14,300 people into city limits by 2024. That's more than the area of West Lafayette – and more people than the communities of Bedford and Morgantown combined. 
The city's last annexation took place in 2004. Hamilton says the city needs to catch up or it'll always be behind.
"It puts us in a position indeed to do that kind of incremental year by year, regular annexation that we should have been doing from my perspective over the last two decades,"  Hamilton said.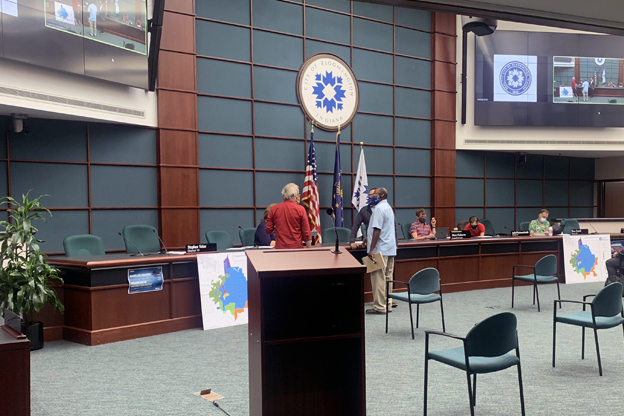 The next step in the process is for the city council to go through each of the eight ordinances – which represent the eight proposed annexation areas – and draft any amendments they think are necessary.
Then during proceedings on September 15, the council will vote to approve, limit, or revoke the proposed boundaries.
Hamilton has already recommended the northernmost parcel Area 7 not be considered for annexation. It's a rural area of about 900 acres near I-69. Hamilton says it's not poised for major development.
Nancy wrote City Limits asking if the city has to provide factual, data-based reasons to support annexation. The city answers that question in it's recent FAQ update – no. Only in the event of a remonstrance trial.
If the city adopts one or more annexation ordinances, landowners within the annexation area have 90-days to file with the county auditor to remonstrate, or protest, the annexation.
If 65-percent of the landowners remonstrate, then the annexation is invalidated. If 51-percent of the landowners remonstrate, then they can fight it through the court system.
The city wants the annexations to go into effect on Jan. 1, 2024 – right after 2023 municipal elections. Mayor John Hamilton says any time sooner than that isn't feasible.  
"I promise you if we did that, we would hear a lot of people saying that's way too fast, to try to manage all of these transitions of services and streets and law enforcement and all those other things which do take time to plan," Hamilton said.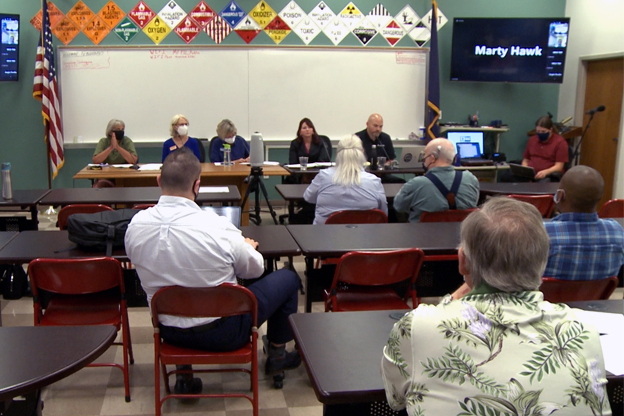 There are more questions than answers about what happens next.
Certain properties have annexation remonstrance waivers associated with them – the waivers prohibit the owners from challenging annexation in exchange for city services, such as water and sewer. Many of them date back years, and still stand even if the property changes hands.
But in 2019, the Indiana legislature put a 15-year cap on those waivers. So, any waiver before 2006 would be invalid.
The city has identified 3,200 parcels subject to those waivers, about half of the total number of parcels up for annexation. But Monroe County Commissioner Julie Thomas said the data isn't clear.
"The problem is that they did not delineate in this report which of these 3,200 sewer waivers are expired," Thomas said.
The city maintains the law is unconstitutional and was passed after the state stopped the annexation process in 2017.
If city council adopts any annexation ordinances, and enough residents petition using the 2019 law, the city could take the state and Gov. Eric Holcomb back to court challenging those expired waivers.
The city's 2017 annexation plan was halted by an addition to that year's state budget. Bloomington officials slammed the decision calling it a clear case of legislative overreach. The city won a lawsuit brought against Gov. Eric Holcomb in December of 2020.
Former city council member and county commissioner Charlotte Zietlow was part of annexation proceedings in the 1970s.
"One of our main hopes from annexation was that we'd end up with a community that was united, that did not pit county residents against city residents,"  Zietlow said.
The Monroe County Board of Commissioners stated its opposition to the annexation proposal Wednesday morning and urged city council to vote against all eight areas. They said the city should work with residents in each area to achieve voluntary annexation.
Although the city first presented annexation in 2017, the process may only really begin in September when city council amends and adopts the ordinances re-shaping the city's limits.