Signs were posted last week in Bloomington's Seminary Park warning those experiencing homelessness and sleeping in tents that they must seek shelter elsewhere by Monday night at 11 p.m.
READ MORE: City To Begin Enforcing Overnight Camping Policies In Seminary Park Next Week 
But when the time came, nobody from the city showed up to remove any of the camping structures. 
Executive director of Beacon Inc. Rev. Forrest Gilmore was one of the many community members waiting in the parking lot to the south of Seminary Park around 11 p.m.
"It doesn't look like anybody is going to show up tonight," Gilmore said. "But the number of people in the park is down considerably. We think people are dispersing to other places in the community, which is honestly what we were really afraid of and worried about."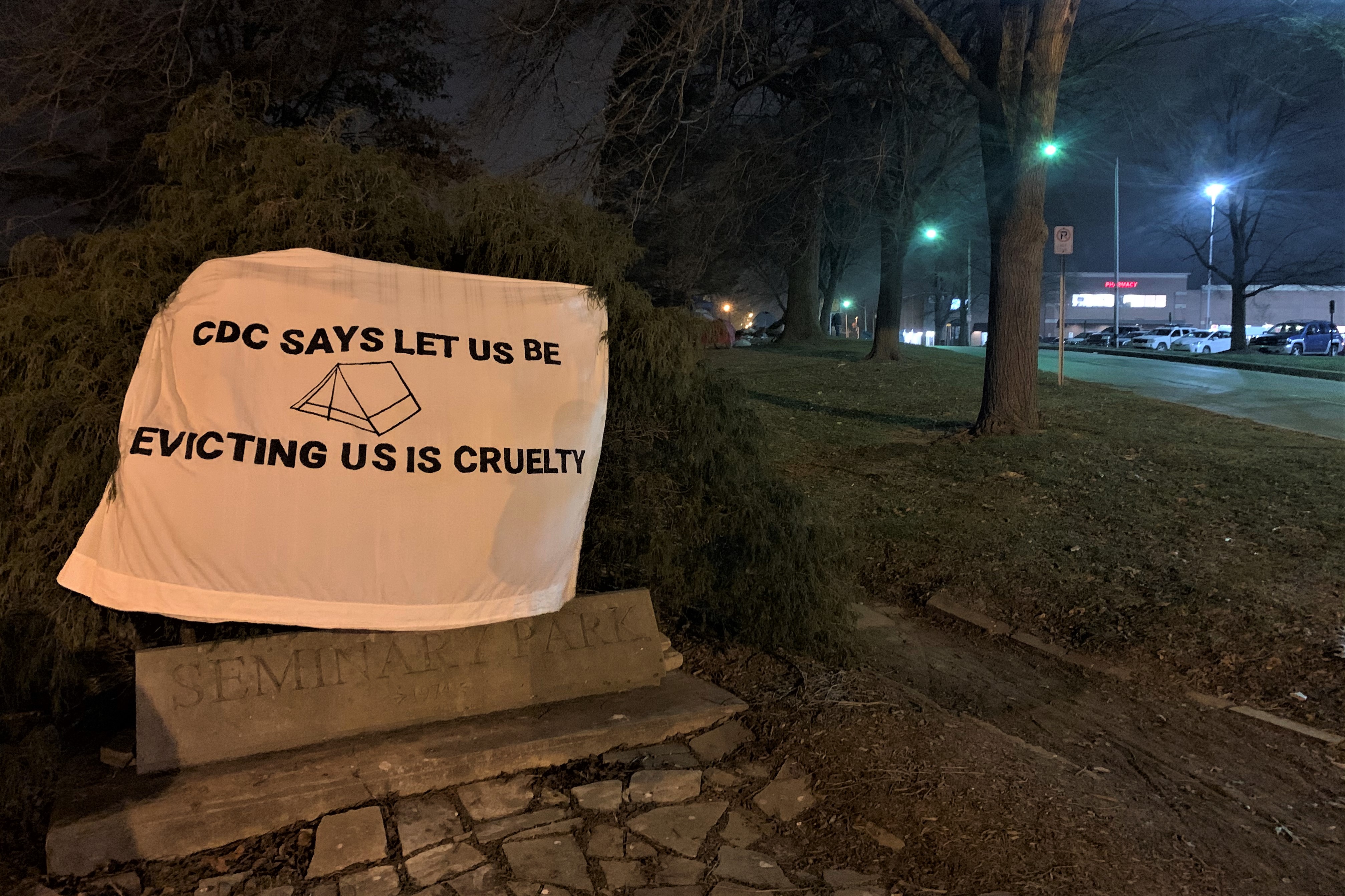 Gilmore said people experiencing homelessness likely left the park to set up hidden campsites, which makes it more difficult to offer help and provide resources. 
He also said there was no availability at Beacon's "Friends's Place," an overnight shelter on the southside of town on Rogers Street. 
"We're already well above capacity to try and deal with the winter and the challenge and the struggle that's going on here," Gilmore said. 
Wheeler Mission Director Dana Jones said there is some availability at both its men's and women's shelter.
Jones canvassed the tent encampment on Monday night and convinced three individuals to come to the Christian ministry for the night via bus.
A letter with more than 1,500 signatures was sent to Mayor John Hamilton's office asking the city to hold a moratorium on the eviction of people in the park.
READ MORE: City Rejects Letter Calling For Moratorium On Evictions At Seminary Park
"Current weather and safety conditions are such that the City cannot in good conscience recommend overnighting in the Seminary Park area," a city press release said. 
Among those who signed the letter were the Monroe County Commissioners, members of the Bloomington City Council, members of the Monroe County Council, the Monroe County Democratic Party and several local organizations and activists. 
"What was beautiful about that was it was signed by so many people in the community," Gilmore said. "That was really powerful and exciting to see so many elected officials step forward and say that this is really important." 
Gilmore said the mayor's office has yet to offer a response to the letter, but he is currently working with the city to open a new low-barrier shelter in a warehouse south of Seminary Park.
"It looks like we have an option," Gilmore said. "In hopes that would help slow things down and create a win-win for everybody and get a lot of people out of the cold."
Gilmore said he walked through the potential site Monday afternoon with the Bloomington Fire Dept. to make sure the building could be properly renovated to fit the local fire code.
"But we will need financial support," Gilmore said. "We'll have to staff it up, which would take some time."
Gilmore said Perry Township has already pledged $15,000 dollars for the new shelter and he will ask both the city and county for donations as well.
"I'm still working on the budget, but it will probably need tens of thousands of dollars," Gilmore said.
When asked about a possible timeline, Gilmore said with the right amount of funding the shelter could be up and running quickly with the goal of keeping it open until April.