Taxation without representation, referendum, high taxes, no needed services, llamas, and sheep are just a few of the reasons Monroe County residents logged onto Zoom Wednesday afternoon to argue against annexation.
The Bloomington City Council annexation public hearing was supposed to be in-person and online, but upon arrival at city hall, flyers read that due to concern of COVID-19, city council will recess and reconvene an hour later on Zoom only.
City Council President Jim Sims said bringing a large public group together during a surge of the delta variant wasn't a good idea.
"Why not tell the public earlier? I hope this is not an insinuation that this was something we knew a week ago and just sprung it on people today. This has been an ongoing conversation with our council staff," said Sims. 
The announcement and unanimous vote came with some boos and moans from the 20 or so allowed into the meeting.
At one point 227 people were on the Zoom call – most who spoke were against annexation. 
READ MORE: Bloomington's Annexation Proposal A Hard Sell For Some Non-City Residents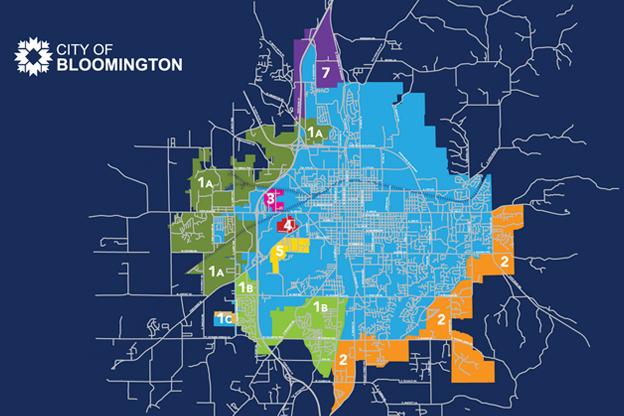 A couple spoke out in favor. Mark Figg said higher annexation taxes are better than increases in staggering housing prices. 
"The county commissioners in their anti-development voting and anti-development plan commission president have failed to recognize the problem or do anything about it," said Figg. "The county development ordinance is ancient."
Bloomington Mayor John Hamilton is proposing annexing 9,200 acres and 14,300 people into city limits by 2024.
Hamilton said the city needs to catch up or it'll always be behind. The city's last annexation took place in 2004.
Jocelyn Bowie lives near Smith and Rogers roads in the proposed annexation area two. She said her house was a half mile too far to hook onto the city sewer system in 2007, and now has no need for city services.
"Accordingly, I invested more than $16,000 necessary to construct a new septic system based upon this information," Bowie said.
Monroe County Commissioner Penny Githens asked city council members to consider how much the local income tax rate will go up to those already living in city limits to fund the additional services. 
"The city will need to bond for approximately $24 million to pay for the costs of annexation, will my taxes increase to pay for this bond?"
READ MORE: Can Bloomington Increase Understaffed Police Department To Catch Up With Annexation?
Andrew Briggs lives in proposed annexation area one A in the Fieldstone neighborhood and says the annexation process is taxation without representation.
"I think you ought to make a referendum on next year's mid-term election. I appreciate the concern of the woman who would like to get public transportation, but to force this thing down people's throat, a resistant taxpayers through, it's not a thing of integrity," said Briggs. 
Public comment ended a couple hours earlier than scheduled concerning city council members that some residents might log on to see the hearing had ended.
More Meetings Planned
Council voted to reconvene the public hearing next Wednesday at 6 p.m. Council will also begin to discuss amendments to the annexation ordinances. 
Proposed annexation areas could change after city council votes to accept, limit, or revoke the proposed boundaries for any of the eight areas during proceedings on September 15.
The city is also hosting virtual office hours Thursday, August 12 from 11 a.m. until 1 p.m. and Thursday, August 19 from 3 p.m. until 5 p.m.