Nearly a year after a flash flood swamped Bloomington, the memories are still fresh for Lonnie Baker. Reports of approaching rainstorms come with new anxiety. 
"I look at the size of the storms [now]," Baker said. "'Is this the night it's gonna flood?' You get those [thoughts] in the back of your head." 
The night of June 18, 2021, a quick, torrential downpour overwhelmed Bloomington's stormwater system. Water swept through downtown, damaging businesses and killing a man. Parts of Kirkwood temporarily transformed from street to river.  
Further south, Clear Creek crested, forcing Baker and others in its floodplain to evacuate at a moment's notice. Now a year removed from the event, he and others along the river are worried flash flooding is becoming more frequent – and powerful – than it has been. 
"I've had a little water in the garage, but through the years there's been more floods," Baker said. "And the severity of it – I've seen an increase in the 17 years I've been here." 
NOTICING A PATTERN? 
The 2021 flood saw parts of Monroe County get a month's worth of rain in a matter of hours. Baker acknowledges that was an anomaly. But he and his neighbors are concerned they might be seeing a pattern. 
"I don't know if I can do it anymore," Baker said. "I've had two major floods: that flood of '19 and the flood of '21. It's like starting over." 
Fellow Clear Creek resident Tamby Wikle-Cassady says she's seen it from all angles: she lives, rents properties and is developing land along the river. She knows building in a floodplain is risky, but wants to invest in the community she grew up in.
She believes development upstream – particularly culvert work and the 2018 draining of Weimer Lake – is increasing the prevalence and severity of flash floods. 
"They come and they go in about 20 minutes," said Wikle-Cassady. "You'll literally see waves as it rolls out over the bridge on That Road."
While flash floods like 2019 and 2021 will make headlines, residents say others are so quick they go unnoticed. Often the only clues are misplaced yard items or a trailer out of place.  
"By the next day, the city comes down and looks and it's like 'Yeah, there's nothing to fix down here,'" Baker said.
The 2021 flood washed the 3,000-pound antique tractor in Jill Skiles' backyard over to neighbor Bob Logsdon's property, where it's remained since. Logsdon has lived in Clear Creek Township since 1933 and says he's never seen the river fickler than in recent years.
"Development's gotta go on," he said. "But they've got to consider what it's doing to the neighbors down here."
BLOOMINGTON'S HIDDEN RIVER 
Miles of underground culverts guide the "Campus River" from IU's west side under the city to the corner of First and Walnut streets. There, it emerges as Clear Creek.  
The culverts also help carry Bloomington's stormwater to the creek, where two-thirds of the city drains. Given Bloomington's expansion over time, the culverts – some of which are over a century old – have been deemed inadequate for the volume of stormwater they are receiving. 
The current "Hidden River Pathway" project is part of a larger effort from Bloomington officials to modernize downtown storm infrastructure and prevent flooding there. When it's complete, the city says the new culverts will have twice the capacity of the old ones.
That's what concerns residents along the creek: that extra floodwater will be sent downstream, where flooding is already an issue.
The current phase has crews replacing nearly 2,000 feet of culverts from South Washington to Grant Street. According to Jane Fleig, the engineer overseeing the project, the next leg will be replacing the culverts from Dunn Street to Indiana Avenue.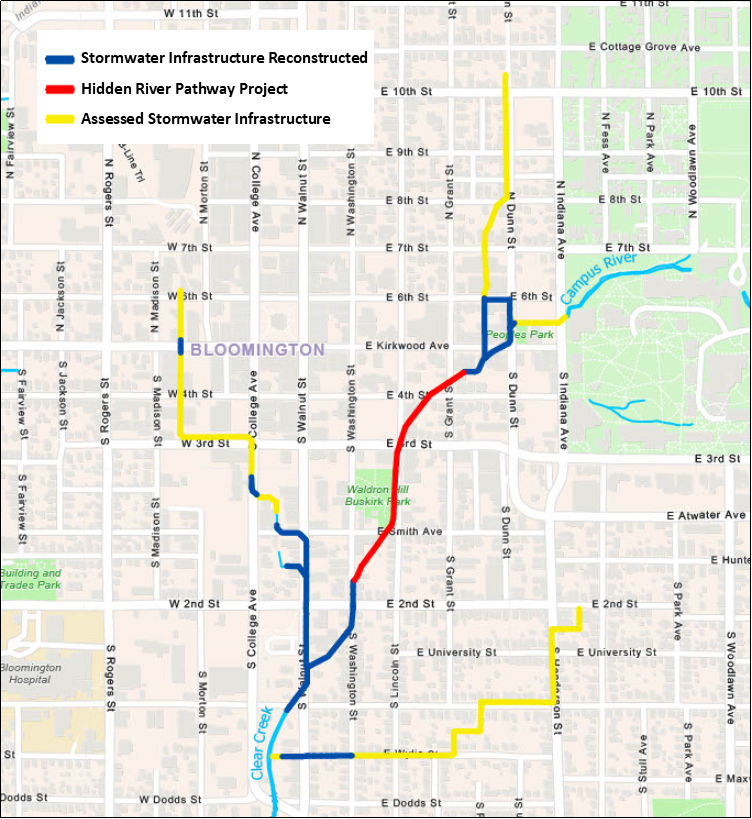 "We just met with some of the property owners up there to talk about the construction schedule and how that will impact them," Fleig said. "That will take care of the entire [Campus] River." 
Fleig said the city has spoken with some downstream residents about the potential for increased flooding, but that there currently are no plans for mediation there. She added modeling would help determine potential repairs and gave the area where Clear Creek emerges as an example.
"Unfortunately, you can't ensure there won't be flooding," Fleig said. "There have been changes in rain patterns and intensities – we're just seeing bigger rain events these days."
MITIGATING MOTHER NATURE 
Bloomington has seen a 25 percent increase in heavy rain events since 1980, according to a 2020 city climate risk and vulnerability assessment. Heavy rain events increase the chance for a flash flood.
The same report said the city will continue to see increases in heavy rainfall, adding "it is extremely important to note that upstream communities can impact the water risk and stress of downstream communities."
David Knipe, director of the Division of Water for the Indiana Department of Natural Resources (DNR), said without specific details it would be difficult to determine how certain projects affect flooding.
"When you have a built-out environment like this, [flood mitigation] becomes difficult because there's no place to put a reservoir or a detention pond or something like that," he said.
When the city drained Weimer Lake in 2018, it was because the DNR said the lake's dam was old and either needed to be repaired or decommissioned. The city determined it would be best to remove the dam, since the lake no longer served as a water supply – its original purpose.
IU O'Neil School professor Todd Royer researches waterways and doesn't believe the dam removal would have much to do with flooding downstream. It didn't hold enough water.
However, he did say the residents' concerns about climate change increasing the chance for flash floods were well-founded.
"The water still gonna go somewhere, right? It's gonna go downstream. And if the channel downstream doesn't have the capacity to move that volume of water, then it's going to flood down there."
Knipe says the DNR has received funding from the Federal Emergency Management Agency for projects in Monroe County, including reviewing the Clear Creek floodplain. 
In one area, along Pinewood Drive in Bloomington, the DNR's floodplain map loops around the neighborhood, which experiences consistent flooding yet somehow does not appear in the floodplain.   
Knipe estimates more information will be available in the next two-to-three years.  
"If, for whatever reason, this area gets mapped differently, that's a discussion we'll have to have with the city – to see what there is to try to mitigate those issues," Knipe said. 
The impacts of development and climate change take years to be seen. For residents along the creek, leaving the future in the hands of Mother Nature is unnerving, but nothing new.
"You can't control the climate," Logsdon, the Clear Creek old-timer, said. "You can't control rain. But surely, they need to determine if something could be done to that creek bed."