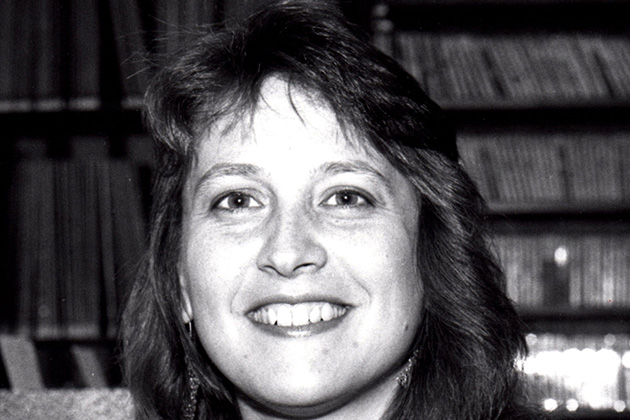 By Angela Mariani
Decades ago, as a young rock musician, I encountered early music both indirectly, through Anglo-Celtic folk-rock bands, and directly, through participating in college early music ensembles, listening to recordings, and hearing it on the radio.
In 1991, when I was a graduate student at Indiana University's Early Music Institute (now Historical Performance Institute), one of my part-time jobs was working at WFIU as a board announcer. I'd been working there for a couple of years when then program director Christina Kuzmych asked me if I was interested in developing a weekly, one-hour program about early music, with the potential of eventually seeking syndication.
I was very excited to do it but worried about the fact that I had just embarked on a doctoral degree, and producing and hosting a radio program sounded like a full-time job. I brought my dilemma to my teacher and mentor, the groundbreaking medieval music performer, scholar, and founder of the Early Music Institute, Thomas Binkley. He told me, "You should definitely do it. You never know where it might lead." How right he was.
For the next 14 years, I was the sole writer and producer of Harmonia. I picked the topics, chose the music, wrote the scripts, edited the interviews, answered listener e-mail, and to some degree took part in the publicity and marketing process—all while finishing the coursework for a doctorate, recording and touring with the medieval ensemble Altramar, and then joining the music faculty at Texas Tech University. (I'd be remiss to not mention that Harmonia's first sound engineer was the wonderful Patsy Smith, a.k.a. Pat Hawkins, who taught me to edit and splice tape.)
I'm often asked about the name of the show. For the ancient Greeks and medieval and Renaissance musicians, harmonia was the "music of the spheres," the harmonious interaction between all the heavenly bodies. That word seemed to resonate with the idea of the music of the past being broadcast over radio waves and out into space.
When I became a full-time professor at Texas Tech University, WFIU generously expanded the operation into a production and writing team, including Michael Paskash who has engineered and edited the show since 1996, and our current producer, LuAnn Johnson, who has worked on the show in one capacity or another since 2001, making it possible for me to continue with the show for another 16 years and counting.
This month, Harmonia celebrates its 30th anniversary! We're syndicated on stations all over the US, have a thriving web presence at harmoniaearlymusic.org and on Facebook, and produce an off-shoot podcast called Harmonia Uncut, which is curated and hosted by my dear colleague Wendy Gillespie. All of this is due to our public radio supporters, WFIU, and the infrastructure of Indiana University.
I get a great deal of joy from being able to introduce radio listeners to music that has a link to the ancient past but is new and fresh. With your ongoing support, we hope to continue bringing this music, performed in historically informed ways, to public radio for many years to come.
---
The first episode celebrating Harmonia's 30th anniversary airs Sunday, October 17 at 12pm on WFIU2 and Thursday, October 21 at 8pm on WFIU. This is one of several Harmonia programs airing over the next year that will reflect on the last three decades and explore the ever-evolving field of early music and historical performance.