The Monroe County Highway Department invited the public Wednesday evening to discuss a proposed sidewalk to the future southwest library branch. The project aims to connect Country Club Road to the new library on Gordon Pike.
County commissioners previously approved $37,000 for VS Engineering to study connectivity in the area near Batchelor Middle School. Engineer Josh Eisenhauer said the group will consider building new facilities and improving existing ones, such as the nearby Bloomington Rail Trail. 
Several residents in the area said a sidewalk or multiuse path is necessary along South Rogers Street. Jacki Porter is a teacher at Batchelor Middle School and said she sees kids walking without sidewalks everyday.
"Our transportation plan for MCCSC says, in general, if you live within a mile of school, you should be walking," she said. "They can't safely walk even a half a mile to Batchelor." 
She said it would be nice to provide more connection to the Bloomington Rail Trail, but it is not practical to encourage people to use the trail instead of a sidewalk on South Rogers Street.
"Encouraging people to go back to Country Club, down to the trail, and down and around…kids aren't going to do it, and adults aren't going to do it either," she said. "They want the direct route." 
READ MORE: Monroe Co. Public Library's third branch under construction, to be completed early 2023
County highway department director Lisa Ridge said the timeline is still unclear, but the project depends on the outcome of the study and estimated cost.
"That's why we started out this process- to see what was the best option…and to not get into something the county can't afford and give hopes to people and the public that dies out."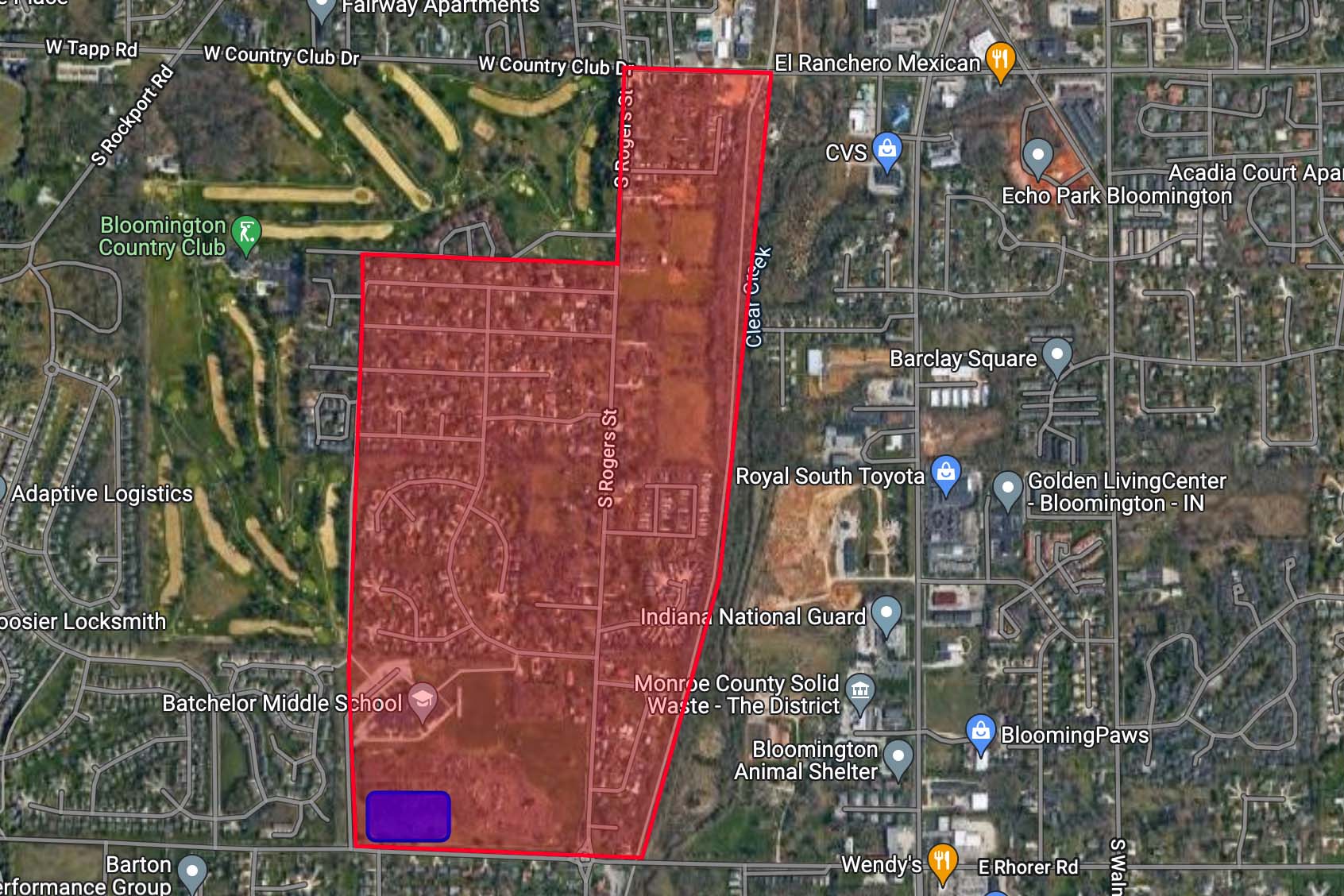 Repaving projects
Monroe County Commissioners approved almost $1.8 million worth of paving projects earlier Wednesday morning:
$401,652- Getty's Creek Road, from Mt. Gilead Road to State Road 46
$311,527- North Shore Drive, from Anderson Road to Brown County line
$300,000- Rockport Road, from Rockeast Road to Popcorn Road (the Indiana Department of Transportation is funding half of this project through its Community Crossing Matching Grant)
$247,238- Little Horse Road and Old Meyers Road, from Boltinghouse Road to Old State Road 37 North
$243,980- sections of Lentz Road, Nehrt Road, and Four Boys Trail
$176,757- sections of Delap Road and Woodall Road
$72,240- Fox Chase subdivision
READ MORE: City Limits: Is there an up-to-date map for Monroe County construction projects?
Ridge said the county plans to spend about $2.4 million to repave 35 miles of road in 2022.