The Jordan Avenue extension was officially renamed David Baker Avenue on Tuesday at a naming ceremony.  
The IU Board of Trustees in February approved the renaming of the university-owned portion of Jordan Avenue between 17th street and North Fee Lane, which is commonly known as the Jordan Avenue extension.  
Baker was an award-winning composer, educator and writer. He also served as a distinguished professor of music and Department of Jazz Studies chair emeritus in the Jacobs School of Music, according to an IU news article.  
READ MORE: Award-winning Composer David Baker Dies At 84  
Baker's wife, Lida Baker, said when David came to IU he couldn't eat or live on campus or in town. She said he had to live in a boarding house for Black male students.  
"And now to see his name on the street here, after the years that he went to school here and 50 years of teaching here to see him honored in this way I just don't even have any words," Lida Baker said.   
She said that when David would practice or write music, she would leave the studio door open so that she could listen to what he was doing.  
"It was almost like getting a lesson myself," Baker said. "And I just was so excited to be able to observe the creative side of him because he was wonderful."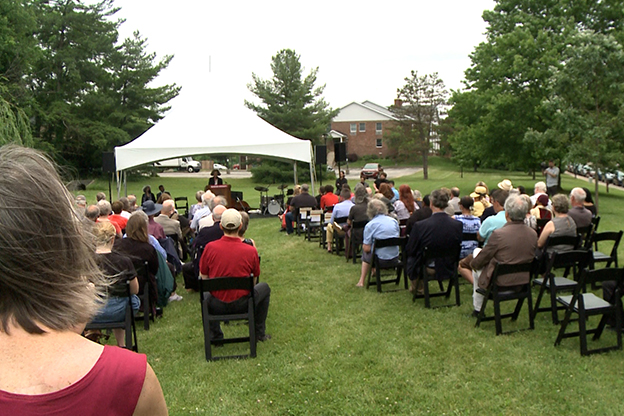 Gwyn Richards, former dean of the Jacobs school of Music, said David Baker was department chair for a lengthy and productive tenure that created the department we know today.   
"But beyond that, when the profession looks at David Baker, not only do they see this remarkable performer, they see someone who codified the education of jazz." Richards said.   
He said there wasn't really a method and practice of teaching jazz in the era until Baker created it.  
"I think all the young jazz players are aware that the materials and the methodologies that they enjoy today are the result of David Baker's work," Richards said.   
Richards said one of his favorite memories of Baker was of a new junior faculty member who went to retrieve mail.  
"I saw them a short time after," Richards said. "I asked how things were going, and they said, 'I'm reminded today of the place I'm at, because I was getting my mail, I saw David Baker getting his mail."    
Richards said the junior faculty member said Baker had offered a warm welcome.  
"That gives you some idea about, you know, the impact of the stature of the people that we had," Richards said. "And how interacting with a young junior faculty member leads them into the profession."  
This renaming follows prior actions by the IU Board of Trustees and the city of Bloomington to rename Jordan Avenue from Davis Street north through the IU campus to 17th street as Eagleson Avenue after a prominent Black Bloomington family. Jordan Avenue and the extension were renamed in reaction to former IU President David Starr Jordan's support of the racist practice of eugenics.